We talk a lot on this blog about current events, disasters in progress or recent emergencies. While world events serve to remind us of the importance of proper preparation, by the time catastrophe strikes, it's too late to prepare. So, assuming you're not under six feet of snow or facing an oncoming tidal wave at this precise moment, what can you do today to begin prepping for an emergency? In answer to that question, here are some key initial steps. Or, as we like to call it…
Preparing to prepare
.
Depending on where we live and time of year, we all have specific natural disasters that could potentially affect us. And while I'd need to prep a little differently for a flood than you might for an earthquake, there is a common set of first priorities. According to experts, those first priorities boil down to 1)
having a kit
, 2)
making a plan
, and 3)
informing yourself
.
Have a kit
. No matter whether you're cut off by a mudslide or a blizzard has taken out the power, you're going to need to eat, drink, and stay warm. A basic stash of supplies for the whole family will get you through those crucial first 72 hours. Office organizations like
FEMA
, the
Red Cross
,
Ready.gov
, and even the
CDC
offer helpful checklists of what to include in your emergency kit, but all of them include these basics: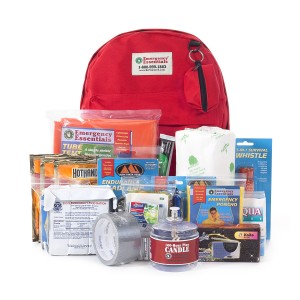 A three-day supply of water, figuring one gallon of water per person per day
Three days' worth of food for the whole family
First aid supplies
Flashlights and batteries
Knife, can opener, wrench, or other multifunction tool
Extra clothing and shoes
Toiletries
Medications
Infant or pet needs
Blankets
Cash
Important documents
Ideally, every member of the family should have their own pack, and packs should be stored somewhere easily accessible. We like the idea of working on these together and keeping a checklist like
this one
out where kids can check items off as you acquire them.
Make a plan
. There are all sorts of reasons your family may have to evacuate. And as FEMA puts it on the introduction to their fantastic
Basic Preparedness guide
, "You plan only once, and are able to apply your plan to all types of hazards." Begin preparations for bugging out by talking about possible scenarios. And remember, circumstances may require leaving your house or leaving your town! Prep for each eventuality by determining: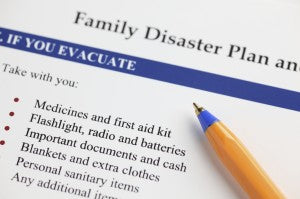 The safest place inside your home to hunker down, as in the case of an earthquake or tornado
Best escape routes out of the house (have at least two!)
Two designated meeting points: somewhere close, but clear of your home; and an out-of-town location for larger-scale evacs
A communication strategy—who will call whom, by what point does everyone need to check in, and how will we reach each other if cell towers are down?
We really like the specific emergency plan templates available at
Ready.gov
, or we've compiled a comprehensive
Emergency and Evacuation Plan
template you can fill in with your specific information and plan.
Inform yourself
. To be truthful, this is kind of a catch-all designation. The first two steps will see your family through the initial days of a serious disaster; after that, you'll have to depend on your knowledge, skills, and ingenuity, which is why education is such a key ingredient to preparation. Pick any one of these areas to start, and build your repertoire of personal resources over time.
Know which natural disasters are likely in your area, and learn disaster-specific preparation.
Learn about your community's notification systems and protocols for emergencies, including schools and hospitals.
Sign up for local or national text alerts.
Certify in CPR.
Learn how to use a fire extinguisher, shut off utilities, and prepare a home for severe weather.
Organize a neighborhood emergency response team.
Beef up your survival skills—building a fire, constructing a shelter, cooking outdoors, etc.
FEMA's guide, mentioned above, is a great, basic starting point. Another treasure trove of information is the
Education
section of our website, which includes dozens of resources that will help you prepare for just about anything. Remember, preparedness is less a state than it is a process. And, like any endeavor, the most important step is the first. Start today with these ideas, and build on your skills and resources as you progress. And don't forget to keep us posted along the way—what are you doing today to prepare for tomorrow?