Families are beginning to prepare to send children back to school –
57 million children
. An estimated 12 million children attend child care and pre-kindergarten programs. What happens if disaster strikes while the children are in school or child care? According to an annual report by
Save the Children
, 32 states require schools and child care facilities to meet four disaster preparedness standards. [caption id="attachment_18804" align="alignright" width="300"]
Save the Children[/caption] "In total, 18 states and D.C. can still do much more to protect children," said Rich Bland, who heads advocacy and public policy for Save the Children's U.S. programs. Three of the disaster preparedness standards require child care facilities to develop written emergency plans. Those plans cover how and when to evacuate to a safer location, how to communicate with parents and reunite parents and children, and how to help children with special needs.
The fourth standard
requires all K-12 schools to develop a written, multi-hazard disaster plan. The state I live in requires each school to hold monthly drills for one of twelve emergency scenarios, including fire, earthquake, chemical spill, flood and other severe weather and lock down for violence. In one school district, for example, teachers get told about a bomb threat with the intercom notice, "Teachers, remember the Saturday faculty meeting." This year, the elementary school two of my daughters attend had to see how well its disaster communication plan worked. A man fired a gun and barricaded himself into his parents' home less than a mile from the school. Though the school didn't lock down, the principal communicated safety information throughout the morning. Of course, since I'd asked to receive notifications by e-mail, I didn't learn about the event until after it ended. Schools in my state must give parents and staff information about their emergency plans. Be aware, they don't have to tell much. One school's emergency information is two sentences long: "In the case of an emergency you are asked to stay calm and follow the instructions of your teacher. In case of an actual emergency when student pick up is required, students will only be released to parents or legal guardians." It gives no information about where to Replace children in case the school gets evacuated – which, to be fair, may not be immediately known – or the procedure parents must follow to pick up their children. Parents, you can prepare your children for emergencies for when you are away from them. First, as parents we can make sure our school or child care provider has emergency plans in place and we know what they are.
This checklist from Save the Children
lists questions we can ask administrators. We also need to ask if local emergency officials have copies of the plans. Second, we can make sure both our children and their schools have emergency contact information. Schools and child care providers need at least two ways to reach us and we need to know how to reach them. We need to give them an emergency contact person who lives outside our area. They need to be aware of any of our children's special needs. We can ask permission to send emergency snacks and water. [caption id="attachment_18812" align="alignright" width="300"]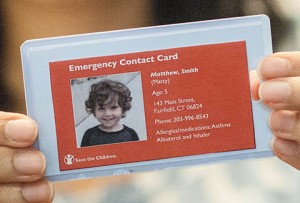 Save the Children[/caption] Finally, Save the Children has a free,
printable emergency contact card
. It includes a child's name, age, home address and phone number, medical information and emergency contacts. The card fits in a child's backpack or wallet. We should teach our children how to contact us and where to meet if we get separated. While your children's schools should have emergency plans in place, you must still do what we can to help prepare your children for disasters should they happen while we are separated from them.
What emergency preparations do you have in place to help you prepare your children from disaster?