The following article is a guest post from Sam Radbil.
Sam Radbil is a contributing member of the marketing and communications team at ABODO, an online apartment marketplace. ABODO was founded in 2013 in Madison, Wisconsin. And in just three years, the company has grown to more than 30 employees, raised over $8M in outside funding and helps more than half a million renters Replace a new home each month.
[caption id="attachment_21358" align="alignright" width="300"]
View of colorful apartments and condos in the city.[/caption] Hurricanes, wildfires, earthquakes, and brutal winter storms are just a few of the hazards for which people all around the U.S. have to be prepared. Even smaller disruptions, such as a water main break, can be mitigated with just a few early steps. And it's not just homeowners. As a renter, your landlord might have had the responsibility of installing emergency lights, smoke detectors, and a standby power system, but you have your share of preparedness measures to take, too. At
ABODO
, we want to make sure every renter is prepared.
Household Emergency Supplies
Citywide catastrophes aside, small-scale household emergencies need preparing, too. For example, make sure you have an easily accessible flashlight with working batteries, a few candles, matches, a fire extinguisher, a first aid kit, and a small store of potable water. The average person needs 1 gallon every three days, which is the minimum recommended to have on-hand.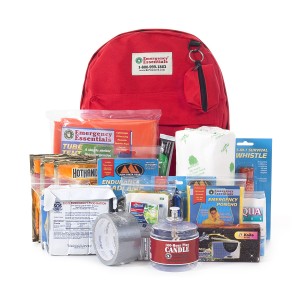 Store-bought and sealed water is a great, simple, and sanitary option, but you can also prepare your own by completely sanitizing water or soda bottles (not milk or fruit juice containers, because leftover sugars can lead to bacteria growth), filling with chlorine-treated water, and replacing every six months. These supplies will come in handy during severe weather or a kitchen mishap, but you should also have a full-scale
emergency kit
packed in the event of larger disasters.
Disaster Supplies Kit
Like insurance, it's something you should always have but hope you never need. Since space is at a premium for many renters, you could consider storing your disaster supplies in the trunk of your car (if you have ready access), so they're ready and waiting if you need to hit the road. If that's not possible, keep the kit as available as possible — don't let it end up in inconvenient, offsite storage. But what to pack?
Ready.gov
recommends some of the aforementioned items, such as a flashlight and first aid kit, as well as extra batteries, radio (and NOAA weather radio), a whistle, dust masks, plastic sheeting, duct tape, moist towlettes, garbage bags, plastic twist-ties, wrench/pliers, manual can opener, maps, cellphone with charger (solar, if possible), and a three-day supply of non-perishable food and water for every person.
Other Helpful Tips
There is the possibility that in the event of a serious disaster, you won't be able to charge your cellphone, or you could lose your phone. Add a little extra protection by making a list of pertinent phone numbers (emergency services, family members, etc.) and keeping it in your disaster kit.
Sign up for emergency alert texts, so you can respond quickly and appropriately to changing circumstances.
Keep a map of your building and surrounding roadways in your disaster kit, which should be provided with your lease. Some apartment complexes can be very large and winding, and in case of an emergency, your regular route might be blocked. It's important to know all of your exit/evacuation routes.
Have some cash on hand as well — ATMs and card readers won't work with no power.