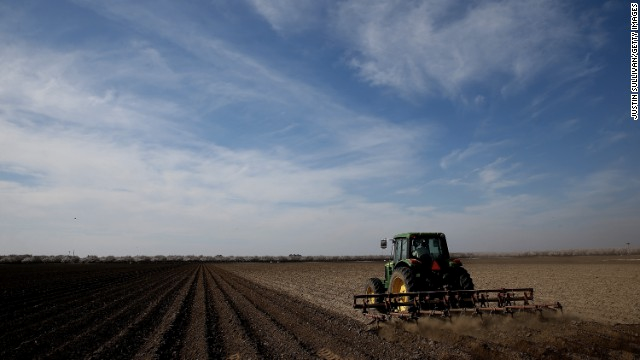 A tractor plows a field in Firebaugh, California, on February 25. Almond farmer Barry Baker had 1,000 acres — 20% — of his almond trees removed because he didn't have access to enough water to keep them alive. Photo: Justin Sullivan/Getty Images
Here are five need-to-know news stories in the world of emergency preparedness for the week of December 14–19.
1. 11 trillion gallons of rain still needed to end California drought
Recent rainstorms have brought hope to Californians, but the state still needs 11 trillion gallons of rain, or about 17 million Olympic-size swimming pools full of water, to end its extreme drought, according to NASA. More rain is in the forecast this week, but from gentle storms, not the torrential storms needed to make headway towards filling California's parched reservoirs. Get your fill of the story at
www.cnn.com
.
2. Potential Christmas week storms may bring snow, travel headaches
Preliminary forecast conditions for holiday weather show rain and snowstorms across the lower 48 states, indicating travel conditions could be hairy. A cold front is expected to drive into the East Coast and significant flight delays may impair the Chicago area. Many areas may experience a white Christmas, though with the holiday several days away, forecasted conditions could change. Chill out with the whole story at
www.weather.com
.
3. American Red Cross teaches children about emergency preparedness through game app
Seven to eleven year-old children can learn emergency preparedness skills the fun way through a new app released by the American Red Cross. A game helps children learn to identify hazards and to use emergency supplies. The app works on both IOS and Android. Learn more at
www.wday.com
.
4. Survival kits being ordered for every major bank in the U.S.
Every major bank across the United States will soon have emergency preparedness survival kits. The kits will include everything from water purification tablets to solar blankets in preparation for potential terrorist attacks, and may cost the government up to $200,000. Order up the full story at
www.freebeacon.com
.
5. FEMA hosts third emergency-preparedness symposium
The National Domestic Preparedness Consortium (NDPC) recently held its third training symposium to train state and local agencies in hazard response, including counterterrorism; explosives; and chemical, biological, and radiological attacks.
More Headlines From Around the Globe:
•
The debilitating outbreak sweeping the Americas
•
Japan Snowstorm Dumps Feet of Snow, Kills 11; Hundreds of Flights Canceled
•
California Storms Bring More Flooding; Mudslide Closes Portion of Interstate 91 in Orange County
•
China approves experimental Ebola vaccine for clinical trials
•
Concerns Over Flu Outbreak and Vaccine
-- Caroline