Preparing children for emergencies is essential for families. You can train most children, even young ones, how to react to a disaster. You should create an emergency plan for natural and human-caused disasters, then practice at least twice a year so everyone knows where to go and who to contact in case they need to evacuate, recommends the National Fire Protection Association (NFPA). However, babies can't be trained. Pets usually have trouble following an evacuation plan. Some special needs family members can't be trained or may have trouble communicating or moving. Some use medical equipment like concentrated oxygen, which is explosive in a fire.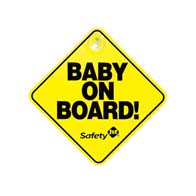 Though not for everybody, emergency signs can be useful to those populations. These include window stickers that indicate children's bedrooms, oxygen signs, medical alert stickers and bracelets, and car signs like, oh, yeah, "Baby on Board." "Baby on Board" signs were so ubiquitous in the mid-1980s they even inspired a song on "The Simpsons." The advantage is simple: the more information first responders have, the better, said Trooper Josh Lewis from the Colorado State Patrol. An autistic boy from his church congregation wandered away from home, which caused an hours-long search. Fortunately, the boy wore a medical alert bracelet. "Should law enforcement come across him and see … the medical alert bracelet, we would much rather have the information than not," Lewis said. Medical alert stickers are available.
Emergency signs are useful on cars too. A sign like "Autistic child may not respond to verbal commands" or even "Baby on Board" helps first responders be more alert, Lewis said. "Any time we respond to a crash and see a car seat or anything that has to do with a kid in a vehicle, we are going to scour the area," he said. Advocacy groups often recommend emergency alert window stickers for apartment buildings, said Ken Willette, division manager of the public fire protection division of the NFPA. They help responders know where to search first. Private homeowners may also post the stickers. "It's all about life and safety. If people feel comfortable putting up a warning label or sign to let first responders know they might need special services, that's a good thing," he said.
Oxygen signs are not voluntary, Willette said. Many states require people to post an oxygen sign if they have compressed oxygen cylinders in their home. Remember the movie "Apollo 13"? A single spark in its oxygen tank destroyed the spacecraft. Emergency responders like to know if they'll be facing something like that. Wouldn't you? Voluntary signs like child stickers in windows can come with disadvantages, according to the NFPA. First, they can create a false sense of security and imply that children should wait for rescue. Parents need to teach children to respond immediately when the smoke alarms sounds, know two ways out of every room, crawl under smoke, gather at a meeting place and call the fire department from outside a burning building, according to the NFPA. Second, emergency signs can suggest vulnerable areas in the home to intruders. They also open up owners to the abuses from bullies. A mother in Utah who had an autism warning sign for first responders on her car came out one morning to Replace somebody had defaced it with stickers that read "spoiled brat" and "unetitled" (sic).
Finally, and most importantly, when children change rooms or grow up, the window signs need to change rooms or be removed. Firefighters could waste vital rescue time looking for a child who isn't there, a NFPA brochure said. With all that in mind, if you choose to use emergency signs, or must use them by law, follow two directions. Make sure the signs are visible and take them down when they don't apply. Whether or not you use emergency notification equipment, do contact emergency services in your area if you have family members with special medical needs. Some fire departments can enter that information so it will show when dispatchers access an address, Willette said. If you have medical equipment that requires electricity, tell power companies so they can prioritize that during outages. "As long as you feel comfortable, first responders would much rather have the information than not," Lewis said. Emergency notification signs, bracelets, and stickers are available in many places. I found them for sale with a simple Web search and on Amazon.com. Some fire departments sometimes have free window stickers. I also found free printable signs with a Google search. As you see, preparing children is more than just teaching them about disasters. It's about informing others around you to take extra care as well. - Melissa