Hosting a Super Bowl party this Sunday? There's lot to prepare for, so if you haven't started preparing, you'd best get on that! Speaking of preparing (like that segue?), getting ready for emergencies is a lot like hosting a great party.
Step One: Planning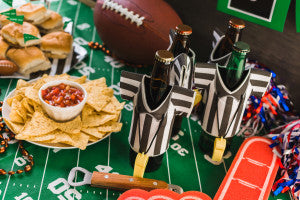 First of all, do you even want to host a Super Bowl party? Personally, I've never even a Super Bowl before (the travesty!), so I don't think I'd be too interested in hosting a shin dig for it. However, what if I told you the guests were coming anyway, whether you like it or not? Welp, might as well make the best of things! I'm no party planner, but I do know a thing or two about preparing for emergencies. And in this scenario, it is most certainly an emergency. So here's what you do: Make a list of everything you need. Got it? Good. This list should include food, drinks, and other necessary supplies. Football props? You betcha. Red party cups? Better believe it. A backup power generator? Hey.
If the Super Bowl venue can lose power
, then so can yours. Living through an emergency situation is very similar to living through a party. You need food, drinks (preferably water in this case), and other gear to help keep you comfortable. If you're stuck without power in the winter, how will you stay warm? Make sure these are some of the things you think about.
Step Two: Acquire
[caption id="attachment_18321" align="alignright" width="300"]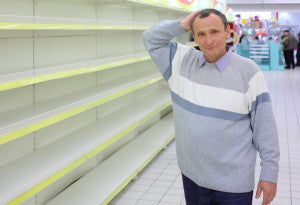 This guy didn't make it to the store in time and now can't have his favorite disaster snack: milk sandwiches.[/caption] Making a plan to feed your guests is all fine and good, but if you forget to do the shopping, there will be a lot of people wondering where the seven-layered dip is hiding (not to mention the chips). In order to avoid any potential embarrassments, make sure you get to the store before the day of the event. Better yet, go a week early. Otherwise, all the other party planners will scoop up the best snacks, leaving you with a tray full of chocolate chips (which are delicious, unless that's all there is to eat for the duration of the game). The same thing applies for emergencies. Get the food, water, and gear you need well before the first warning signs of an imminent disaster. Leaving it too long may lead to not just empty shelves, but empty stomachs as well. Of course, most emergencies don't give warning before they come. Without the proper preparations in place, any day could spell disaster. Just like that one guy who's always more than a little early to the party,
disasters can also show up well before you expect
them. This is why preparing as early as possible is one of the best things you can do.
Step Three: Practice
Nothing kills a party quite like not knowing what channel the big game is on. Likewise, if you don't know how to prepare your freeze-dried meals, work your generator, or know how you other gear functions, you might be in for a rough first night during an emergency. Get to know your gear. Learn how to prepare those freeze-dried and dehydrated meals. Walk through your home evacuations so you'll know what to do when the time comes. And, perhaps most importantly, make sure you practice your best touchdown dance for maximum approval.
Step Four: Enjoy the Show
Sure, disasters and emergencies aren't always the most pleasant of experiences, but the enjoyability of them can be increased through proper preparations. Ice storm knock out your power for three days? At least you'll have emergency lights, heat, and the ability to prepare delicious meals. Car break down on a back road? Fortunately, you have blankets, food, and water to get you through until help Replaces you. Football game dragging on? At least there's good food to keep you occupied.
Written by Steven M.