Each Monday in January, we're sharing our Preparedness New Year's Resolutions for 2014. If you'd like to make some Prepping Resolutions of your own, but don't know where to start, borrow some of our resolutions or use this series to get some ideas.
This week we are talking about Indoor Gear. Click here to check out Last week's resolutions for Preparedness Skills.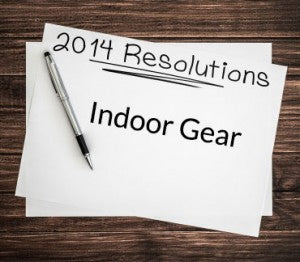 Here is what our Emergency Essentials' bloggers plan on purchasing as Indoor Gear items for 2014:
New Year's Resolution Prepper Style: Indoor Gear
Sharon
I resolve to get a Kitchen Plus 2000 Hand-Powered Food Processor. Based on its great customer reviews, I'm quite sure I'd use it often—not just on the rare occasion when our power goes out!
Sarah
I love the indoors. I really do. Even though I'm committed to learning more
skills
and spending time in the outdoors this year, climate-controlled spaces with running water and plumbing are really more my cup of tea. However, just because I love the indoors doesn't mean the plumbing, A/C, furnace, or electricity will always be working—especially following a natural disaster. This year I'm buying some gear that will make hunkering down at home easier if some of the utilities or other comforts of home aren't available… things like, ahem, a Tote-able Toilet,
Double Doodie Bags
, and packets of
enzymes
(it's just reality). Because I'm a wimp when it comes to being cold, a
Mr. Heater
is in my future, in case the gas and/or power goes out in the winter. I also really love to cook, so I've got my eye on a Kitchen Plus 2000 for food processing without electricity and, if I can swing it, a
Bosch
. Because…who doesn't want a Bosch? It's the Rolls Royce of food processing, if you have power.
Angela
A couple of summers ago, I went to church with my mom and the speakers talked about the importance of communication in an emergency. One of the speakers learned how to use a HAM radio and was part of the local HAM radio network. He gave a brief overview of how the HAM system works. For my New Year's resolution for indoor gear, I'd like to study up on HAM radios and I'd also like to research and buy different phone apps and radios like the
Kaito Voyager
that can get access to NOAA and other weather/warning update systems that will help me to stay in communication and know what's going on during an emergency if I have to shelter in place.
Kim
This year, my husband and I will be condensing all of our "stuff", especially in the kitchen. In 2014, I plan to purchase a Bosch Universal Plus Mixer with Blender Attachment and Cookie Paddles with the Metal Whip Driver. This will help us prepare for when we move into a smaller apartment when my husband goes to grad school. Bosch Mixers do practically everything. Not only can you make bread, cake, and cookies, but, with the blender attachment, you can cream smoothies, malts (my specialty!), sauces, meringues, whipped toppings, and more. With the one mixer that does it all, I can get rid of my bulky stand mixer, toss out my low-power blender, and eventually, as I add on more
attachments
, get rid of the other bulky items that take up space in my kitchen.
What types of indoor gear items do you want with you if you have to shelter in place? Let us know in the comments.