Each Monday in January, we're sharing our Preparedness New Year's Resolutions for 2014. If you'd like to make some Prepping Resolutions of your own, but don't know where to start, borrow some of our resolutions or use this series to get some ideas.
This week we are talking about Outdoor Gear. Click here to check out Last week's resolutions for Indoor Gear.
Here is what our Emergency Essentials' bloggers plan on getting to take with them into the great outdoors in 2014.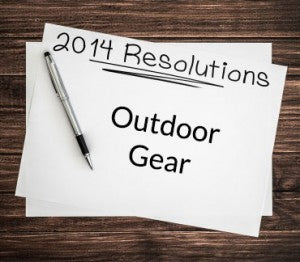 Prepper Style New Year's Resolutions : Outdoor Gear
Sharon
I resolve to get some good fire-starting supplies, such as the nifty little
Sparkie Fire Starter
, a can of
Fired Up!
, and some
Waterproof and Windproof Matches
. This would make it so much easier to start a campfire or get the charcoal grill going quickly, especially in windy conditions.
Sarah
If you've followed the
Pennies for Prepping
series, you may know that I bought a bit of outdoor gear last fall, including the Teton Outfitter XXL 1-Man Quick Tent and a
Klymit Static V sleeping pad
. I already have a sleeping bag, but I'd like to get something warmer this year, ideally before I go winter camping—maybe to something like the
High Unita Gear Sleepy Ridge 10-Degree Sleeping Bag
. I also want to get an
Optimus Vega canister stove
. Because, if I'm going to get a canister stove, it might as well be one that will work during all four seasons.
Angela
My New Year's Resolution for outdoor gear is to learn how to make awesome shelters for different situations. I want to read and research about different shelters and how you make them in
the Sense of Survival
. Then, I want to go and test it out with a few materials I already have on hand at home. I want to do this so I can figure out what items I would need to make a stellar, warm, and insulated shelter. So I already know that I really want a
ripstop tarp
or two,
duct tape
, and maybe a
tent
like the Mountainsmith Morrison Two-person Tent if I can't figure out how to make a shelter from natural materials. . .
Kim
This year, I'm going to learn how to start (and extinguish) a campfire. To learn this new skill, I want to add fire starting tools to my family's
emergency kits
and camping supplies. Our family loves to camp, but not knowing
how to build a fire
can ruin the adventure pretty quickly on a cold night. We will be adding the
Sparkie
, Spark-Lite, and H-25 Strike Master fire starters to our kits. We want to have a variety of fire starters on hand to ensure that we have a reliable method of lighting a fire, no matter the situation. (What if I lose one? If that's my one and only method of starting a fire, I'm in trouble). By the end of 2014, my family will be campfire starting (and extinguishing) experts!
What's Your Advice?
If you had to survive in the outdoors, what else would you bring?
This is our last week for New Year's Resolutions. Now, let's see how many of them we can keep! Check back here to see how we are making progress on our goals in the coming months. Check out all the
Prepper Style New Year's Resolutions
from the beginning of January on our blog.