This week's featured product is Yoder's Canned Bacon. Have delicious bacon with these
easy-to-store cans
. We've taste tested it and loved it! Yoder's Canned Bacon will make a great addition to your food storage.
Heat pasteurized in a sealed can
100% USDA Bacon, Packed in the U.S.
No refrigeration before opening
2-year manufacturer shelf life guarantee. Up to a 10-year shelf life
Compact and lightweight (only 4.5" high by 3" wide and weighs only 9 oz)
Approximately 50 slices per can
Great for emergency storage and camping or backpacking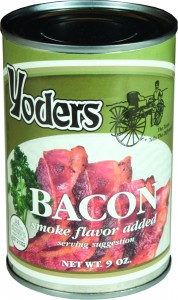 Recent Customer Reviews:
Best bacon ever!!! "I ordered a case of this bacon for emergencies. HOWEVER, I was too curious so I made the mistake of opening a can. This bacon is so wonderful for ANYTHING!! But we especially love throwing it in the microwave and making BLT sandwiches. So much for emergencies! So I'm ordering more!!! I never want to run out."
Dianne, MISSISSIPPI
AWESOME! ...I bought one can to try it... SURELY they could not put a quality product of approximately 50 pieces of bacon in a can the size of a can of soup! Opened the can to try it and had to call my husband into the room to show him as well. We were shocked at the packaging! We immediately warmed some up in the microwave and had a bacon sandwich for breakfast. YUM! Will definitely order more. For some who have an active food storage program, do not let the price scare you. It is well worth it when you think that you can have fresh bacon and do not have to refrigerate or freeze it. We may not always be guaranteed of having electricity BUT we can rest assured if we only have a can opener!
Patricia, NORTH CAROLINA
Let everyone know what you think about Yoder's Bacon. Just click below on COMMENTS to leave a comment, idea, question, etc. about this product.