[caption id="attachment_22342" align="alignright" width="300"]
Power is still a problem in Puerto Rico - Image via NBC News[/caption] In Puerto Rico, it's all about power. The ability to power hospitals (
98 percent are open
, but most use generators). The power for cell towers (
78 percent restored
, most using generators), so trucks can use GPS to Replace delivery points and people can use smart phones to request help. The power to run wastewater treatment plants (83 percent of them are now online, most using generators) so people have access to clean water. Even the power to run tools to remove road obstructions and repair homes. As of November 5, 2017, seven weeks after Hurricane Maria destroyed Puerto Rico, 41 percent of the U.S. territory has power.
At least 100,000 people have left
, including my husband's mom, Ruth Lezcano, who is living with us temporarily. Others are preparing to leave as soon as they can, like my husband's brother, Gerry Rivera, who just got a job in Florida. Others are riding out the aftermath. Here's an update on the island's recovery and some ways you can prepare in case a disaster leaves you living like people in Puerto Rico for a while. More than
70 percent
of the island now has
telecommunication service
. We're able to reach Rivera regularly. That wasn't the case a full week after the hurricane, when he had to climb onto the home's roof to get a tiny, intermittent signal that was only good for texting. Now he can use his phone to apply for Federal Emergency Management Agency assistance or to know what's open nearby. However, to charge his phone he has to have power. Consider investing in a
quality generator
, preferably one that uses solar power to recharge, and be prepared to spend money on fuel. Rivera lives in Bayamon, next to San Juan, where he is taking care of his mother's home while he waits to leave. Ruth Lezcano, his mother, said she had to throw out a lot of spoiled food before she left. Rivera's inability to store or cook perishable food means he must often eat out or grocery shop. That means he needs fuel to get around. Also, many people use gasoline to run generators. About
84 percent
of gas stations are operational in Puerto Rico
as of November 5
. The territory's
resource status web site
provided a list of gas stations that have received fuel at least once. However, it warned, "Due to the high demand the operational hours could be 4 to 5 hours." In other words, fuel may still be in short supply. Many stores and restaurants have access to fuel and food supplies. About 89 percent of grocery stores are open,
according to Axois
. But since only about
three-fifths of the island's roads are open
, most in the outer ring, the island's interior still
isn't getting as many resources
. Orocovis, in the island's interior, has 55 municipalities. It had seen 40 food deliveries but no water deliveries
as of October 25, 2017
. Villalba, with its 76 municipalities, had received five water deliveries and 31 food deliveries. To pay for scant resources, you need a lot of cash on hand A few years ago, I interviewed Ann House, coordinator of the University of Utah personal money management center. She recommended people keep at least $100 cash in small bills and encouraged a large family to keep between $500 and $1,000 cash on hand. I thought she was she was over-cautious. Yet seven weeks after the hurricane, 20 percent of Puerto Rico's banks remain closed, and only 1,100 ATMs are operational. People need cash to buy resources and eat out, and they're struggling to get it. A boil water order
remains in place
for the whole island. But how do you boil water without power? For a while, Rivera was collecting water from a river and using it without boiling it. He said water is now on intermittently in Bayamon.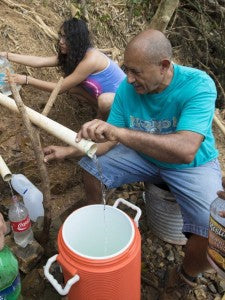 Though 83 percent of the island has potable water
at least intermittently
, or has had water deliveries, some areas had no water
service as of October 25,2017
. Waterborne diseases like leptospirosis were
reported last week
from people drinking contaminated water. Consider investing in a water purification device.
All post offices are open
and mail is being delivered, albeit slowly. One woman told me she sent care packages to her family near Quebradillas right after the hurricane. The packages arrived a month later. Even in the best of situations,
it takes years to completely recover
from a major disaster. In Puerto Rico, how long will it take to switch from living-day-to-day to rebuilding and recovery? How long are you prepared to take?
Melissa Rivera is a jack-of-all-trades who is master of none. She has been a writer and editor for more than 15 years.