On May 1, 2016, one of them (code name: weasel) immobilized CERN's Large Hadron Collider, the world's largest atom smasher. Another (code name: bird scat) shut down a New York nuclear reactor for three days. A third (code name: crow) caused a fire and knocked out power to the entire community of Summerside, Prince Edward Island, Canada, on May 6, 2016. In April they attacked 22 sites in 11 states and six countries. They are all around us, unnoticed, unseen. They are our neighbors. They are ... the animal kingdom.
"Squirrels are the biggest offenders," Nuclear Regulatory Commission spokesman Eliot Brenner told the Associated Press. Though we spends a lot of time talking about major disasters, random acts of nature like animals, wind, and lightning can create similar problems. Here are a few ways to prepare for these troublemakers. [caption id="attachment_20485" align="alignright" width="300"]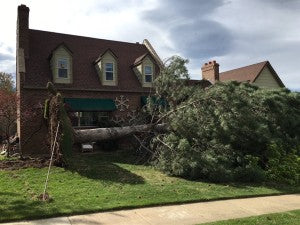 Photo courtesy of Standard Examiner[/caption] First, have insurance. Hopefully a homeowner in Kaysville, Utah, carried insurance when local hurricane-force wind gusts sent a tree into their home May 1. Wind also
knocked out power to 39,000 people
in the area. With all insurance plans, check what they cover. Homeowner's insurance will typically pay to repair or rebuild a home if it's damaged by disasters like fire, hurricane, hail or lightning,
according to the Insurance Information Institute
. It also may cover personal items and liability for damage by family members or pets. It won't pay for damage caused by a flood, earthquake or routine wear and tear. Supplemental flood and earthquake insurance is available in places like floodsmart.gov. Almost every state requires drivers to carry
auto liability insurance
. Many car loan agreements also require comprehensive and collision insurance as well. Hopefully, the owner of a pickup in Summerside, Prince Edward Island, Canada, had comprehensive insurance on May 1. That day, when a crow touched something it shouldn't have at the Summerside Electric Utility power plant on May 1, it knocked out power to the town. It also triggered an electric arc that shot into a pile of firewood in the driveway of the home across the street. That fire caused minor damage to a pickup. Comprehensive insurance would cover the cost of repairs from the act of crow. Liability insurance would not. Second, have an alternate power source. Most of the time, outages caused by random acts of nature are short-duration. The Summerside crow outage, for example, lasted only 45 minutes. However, people dependent on powered medical devices should make a power outage plan,
according to ready.gov
. The plan can include extra batteries or a generator. A person whose equipment has steady power needs should also register with the power company so it can provide outage updates and prioritize power restoration. Third, know the neighbors. On May 6,
a squirrel blew a fuse
in a transformer that brought power to a shopping plaza in O'Fallon, Ill. Some businesses lost power; others didn't. Localized effects are common with these random acts of nature. Neighbors can help each other with power, supplies, and cleanup. Fourth, know basic safety rules. A fallen, live power line (caused by a goose)
burned a Pennsylvania middle schooler
when he went to move it at the request of his school bus driver. Never, never touch fallen power lines. If at all possible, stay inside during heavy storms.
Ready.gov
has a good list of safety tips for storms and other disasters. This information, and supplies like those sold here at
beprepared.com
, can help anyone be ready when life – or a squirrel – happens.