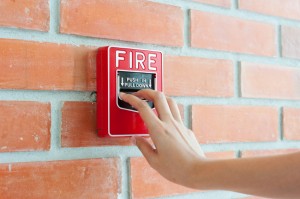 Surprisingly, the terms "Smoke Detector" and "Fire Alarm" aren't interchangeable. Smoke Detectors and Fire Alarms actually have different functions and may be better suited for one environment over another. For example, a smoke detector may be better for a home while a fire alarm may be better for a business or school. According to the
National Fire Protection Agency
, almost two-thirds of home fire related deaths were caused because families did not have a "fire alert system" in their home or if they did, they were not in working order. So it's important to select a "fire alert system" that will fulfill your individual needs and help keep you safe in an emergency. Let's talk about the differences between smoke detectors and fire alarms and how you can select and maintain each system in your home.
Smoke Alarms
A smoke alarm is a smoke sensing device that sounds an alarm when an abundance of smoke particles are in the air. Some smoke alarms even come with flashing lights for those with hearing impairments. It's recommended to place a smoke detector on every level of your house—preferably near sleeping areas. There are three types of smoke alarms you can choose from.
Howstuffworks.com
gives an excellent explanation of how each of these work:
Photoelectric: Uses a light beam and sensor to detect smoke. As smoke travels into a compartment on the detector, that smoke covers the light beam, causing the detector to sound. Better for smoky fires (ex. a mattress or cloth fire).
Ionization: Uses a chamber to detect an abundance of smoke particles in the air and the accelerated movement of smoke particles signaling an increase of smoke in a room. According to howstuffworks, "This type of smoke detector is more common because it is inexpensive and better at detecting the smaller amounts of smoke produced by flaming fires."
Dual Sensor: Contains both Photoelectric and Ionization smoke sensors
Smoke alarms are considered the cheapest option to keep your family safe in case of a fire in your home and range from $6 to $50.
Fire Alarms
A fire alarm system can sense heat as well as do everything a smoke detector can. Depending on the type of fire alarm you get and the money you're willing to pay, a fire alarm can do much more than just signal that there's a fire in the house. There are several options to choose from that can help you cater to your household. Some optional features of a fire alarm include:
Fire Alarm Control Panel – connects the central monitoring station and all other parts of the system together—like the motherboard of a computer.
Sprinkler System—automatically activates when smoke particles reach high levels, protects you and property from excessive fire damage (but may cause some water damage as well).
Warning Systems—alarms, plus visual elements like strobe lights or flashing lights for those who are hearing impaired.
Fire Alarm Box-a pull down mechanism placed in a glass box that sends out a fire alert to local authorities. Similar to what you see in schools or office buildings.
Transmitter Devices—optional for elderly, can be worn around neck or as a wristband to signal for help.
Note:
Not all fire alarm systems offer all features Installing a fire alarm in your home is more difficult than putting in a smoke detector. Often, service professionals or fire alarm technicians install them. Some systems can be installed without professional help, but you'll need to be somewhat familiar with electrical engineering to some extent. The benefit of a fire alarm over a smoke detector is the extra layer of protection you receive. Since fire alarms connect to local authorities, you can have a fast response if a fire starts in your home. They also have a longer lifespan than smoke detectors if regularly maintained.
Maintenance
Smoke Detectors
Test the detector monthly.
Replace batteries once a year (if you have a detector that uses a lithium battery do not replace the battery, but replace the whole detector according to the manufacturer's instructions).
Replace the detector every 8-10 years.
If your detector is hardwired to your electrical system, you should have a back-up battery in it as well. Replace the back-up battery once a year.
Fire Alarms
According to the
Electrical Construction and Maintenance website
, maintenance of a fire alarm is largely determined by the age of the system. Systems five years old and under do not have a lot of problems, but systems ranging from 10-20 years may. Depending on the quality and frequency of the maintenance. . You'll want to do yearly inspections to make sure your system is functioning properly, even in the first five years. Fire alarm maintenance is best performed by a trained technician who has knowledge of how fire alarm systems work. Generally, fire alarm maintenance requires testing each component.. Technicians generally test:
The audible components—horn, siren, bell
The visual components—flashing lights
The sensors—smoke and fire sensors, sprinkler system
The signaling system—ability to signal the fire department and local authorities of fire
The battery—checking for corrosion
For an in depth look at the maintenance service technicians perform on fire alarm systems, check out the article, "
Fire Alarm System Testing, Inspection, and Maintenance
" from the Electrical Construction and Maintenance website
So which system would you prefer in your home? Fire Alarms or Smoke Detectors?
Sources
http://home.howstuffworks.com/home-improvement/household-safety/fire/smoke.htm
http://www.nfpa.org/safety-information/for-consumers/fire-and-safety-equipment/smoke-alarms