We are putting the Sport Solar Oven to the test every Saturday during March at our retail stores. Here's our report from Saturday March 23rd.
When we arrived early to prep, we saw there was SNOW! Luckily, the weather can change within minutes in Utah. The clouds cleared out for a few of our store locations, but the temperatures hovered between the high 20's and lower 30's.The stores that had limited sunlight put their plan B into action. They pulled out a
Volcano Stove
and whipped up sweet and sour pork chops and au gratin potatoes. We won't let our customers go hungry! At the stores that did have sun we put the solar ovens out and got to work. This time most of the ingredients we used were food storage items. (See list below.) We made bread, pork chops
with veggies, cinnamon apple crisp, and a cookie.
Despite the snow and cold, the ovens still reached the 250 degree mark inside. The pork chops took 3.5 hours to cook and the desserts and bread only took about 2 hours to bake.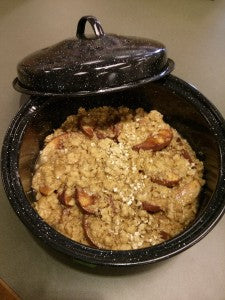 We will be testing the solar ovens one more time this coming Saturday (March 30th).
Contact our Emergency Essential stores
for more information.
Click here to read about how the Sport Solar Oven works.
Here's what Christa Kendall from Utah has to say about the Sport Solar Oven that she got at Emergency Essentials:
"I bake my bread in the solar oven. It comes out fabulous, so moist and fluffy. I let them rise in the house, then throw them in. They brown up perfectly! I highly recommend a solar oven."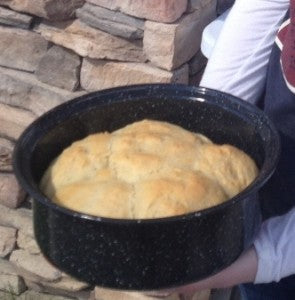 What do you think about the Sport Solar Oven? Tell us below!
*Food Storage Items Used in the Solar Oven Cook-off
Solar Oven Pork Chops:
Freeze dried (FD) Pork Chops, FD
Green Beans,
Chicken Broth
, Spaghetti Seasoning, and minced garlic.
Apple Crisp:
Apple Slices
(rehydrated),
quick oats
, cinnamon sugars,
butter powder
Au Gratin Potatoes:
Dehydrated potato slices,
sour cream powder
,
cheese blend
, and a few
other spices
.