This year, spring flooding is a real concern in the western United States. So, while you're spring cleaning, prepare your home for spring flooding. And spring clean your 72-hour-kits too, in case you have to evacuate in a hurry. Look at these three charts from the
Intermountain West Climate Dashboard
. They'll show you why spring flooding is more likely in the west this year. The first is the snow pack. A cubic foot of compacted snow contains "gallons of water,"
according to the Federal Emergency Management Agency
. Check out this year's mountain snow pack: It is average or above for nearly the entire west. [caption id="attachment_21637" align="aligncenter" width="232"]
Mountain Snow Pack[/caption] And it's melting quickly because the temperature for most of the western U.S. has been warmer than normal. [caption id="attachment_21635" align="aligncenter" width="300"]
Departure from Normal Temperature[/caption] Spring precipitation in the Rockies and northwest has been greater than normal too. [caption id="attachment_21636" align="aligncenter" width="300"]
Percent of Normal Precipitation[/caption] So, there's all this additional water coming down or melting off. At the same time, storm drains and rain gutters may be full of winter debris. Here are some spring cleaning tips to reduce home flooding. Clean and repair roof rain gutters. Ice-filled, heavy rain gutters can pull away from the home. Winter debris like leaves can clog downspouts. Full rain gutters can overflow and damage your roof and the board behind the gutter. Water pouring down the side of the house can leak into the foundation, basement or crawl space, according to
this tutorial from Lowes.com
. Moisture can also
attract termites
. Clean rain gutters every spring and fall.
This tutorial
teaches how. At the same time, look for and repair holes in the roof. "Leaks can cause problems like pests and mold," Nino Sitchinava, principal economist at Houzz.com,
told USA Today
.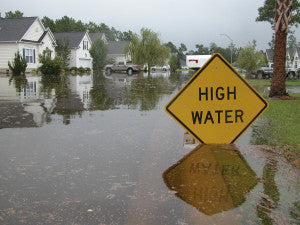 If you're one of the
70 percent of people getting an income tax refund
, consider putting some of it toward roof repair.
Many places online
tell how to repair small leaks so they don't become big ones. And if you
repair small leaks
before they become big ones, you could keep from having to hire someone to replace the whole roof. Also look for areas of poor drainage in the yard. A third of survey respondents to a Houzz.com survey said poor drainage is the main reason for yard projects. Another 12 percent said flooding or storm damage is their main reason for yard projects. Many web sites tell how to
improve yard drainage
. Once you've prepared your home for flooding, prepare your family. Shelly Robertson, of American Fork, Utah, was spring cleaning her van when she decided to check the vehicle's emergency food supplies, including a bunch of
Millennium Energy Bars
. She was glad she did. They'd all expired a few years ago. Spring clean your 72-hour kit. First, check your food. Has it expired? Has your family grown since you bought it? Do you really need that can of baby formula, since your child is in kindergarten? (Oh, no, this isn't personal experience talking.) Do you need to add more food? Or different food? Have food allergies developed? Replace expired food and update your food to reflect life changes. Check your batteries. Have they expired? Robertson tries to replace batteries yearly. Whenever she can, she also buys devices that don't require batteries, like
solar
or
hand-crank
flashlights and a hand-cranked power charger. If you have a
hand-crank light
, charge it every three to six months to keep its battery healthy. Check your first-aid kit. Make sure medicines haven't expired and wipes aren't dehydrated. Robertson replaces expired over-the-counter medicines at the dollar store. Make sure your non-food needs are covered. Robertson admitted she forgot to pack toilet paper in previous 72-hour kits. She's rectified that. Add supplies like a knife, gloves, and duct tape. Make sure clothing still fits. Robertson said one of her friends buys her children inexpensive sweats a size too large then puts those in a 72-hour kit. When her children grow into that size, she buys the next size up and gives them the current size to wear. Finally, practice your emergency evacuation plan. If your area is flooded, you may have to evacuate in a hurry.