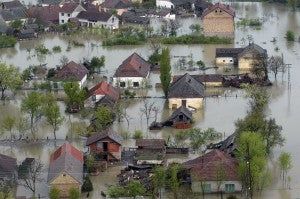 Spring has all but sprung for us here in Utah, and although we'll probably get a bunch more snow before summer rolls around (don't worry, we're used to it…), that's not about to put a damper on the wonderful weather we've been having. What might put a damper on it, however, are the spring floods that can be prevalent this time of the year.
According to FEMA
, there are four main causes for spring flooding. While some of these causes may be more relevant to you in your area than others, you should still be aware of them all, because spring flooding can affect everyone.
Spring Thaw
If you live in an area that gets a lot of snow, this is a big one to look out for. When the weather warms up, snow can melt quickly, resulting in a river of runoff.
According to FEMA
, just one foot of compacted snow contains a gallon of water. Having all that snow melt quickly could quite literally open the floodgates and wash your home – inside and out. But it's not just the melting snow that can get to you. Runoff joins up with rivers and streams quickly, which can then force them over their banks, causing excessive flooding.
Spring Rains
[caption id="attachment_17883" align="alignright" width="200"]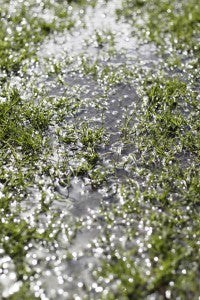 Over-saturated ground won't absorb any more water.[/caption] Downpours that last just a few hours or prolonged precipitation that can last for days are ingredients to the recipe for floods. Spring is known for its showers and wet weather, which brings renewal to the earth. While that's just swell, it's also a recipe for flooding. Once the ground receives too much rain, it becomes saturated and won't take in any more. So what happens to the water it won't let it? It will start piling up on top, spilling down hills and into anything that stands in its way. Heavy rain is also dangerous in areas that were recently affected by fires. Forest fires burn the ground, making it more than difficult for water to seep in. Instead of going into the earth, it runs down those parched hills, flooding anything in its path.
Flash Flooding
Heavy rain form multiple storms or one massive thunderstorm can be too much for the ground to absorb fast enough. When this happens, you've got a flash flood.
FEMA describes this
as "rapid flooding of low-lying areas in less than six hours." Drought-stricken areas can be a major contributor to flash floods as well, since the dry ground won't absorb the rain. Flash floods are especially frightening due to the speed in which the waters rise. When a flash flood comes, your time for preparing are past.
Levees and Dams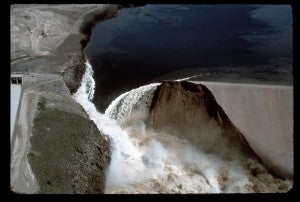 The United States has thousands of miles of levees and dams, all of which are there to help protect us from flooding. However, these can weaken and erode – or even flood over and fail – during times of intense rain. One example of severe flooding from a dam is the
Teton Dam Flood
in Idaho in 1976. This flood was catastrophic and caused massive amounts of damage to the communities it rushed through. These are some of the main causes of flooding, but don't be surprised if the waters rise in some other way. For even more ways you could be affected by floods, visit floodsmart.gov. They have a long list of flood causes, although many of them are very area specific. So, now that you know some major flood threats, how will you prepare for them? Research the various flood threats within your area and prepare accordingly. For starters, we recommend investing in an emergency kit that's easy to grab and take with you should you need to evacuate. After all, if the flooding gets bad enough, you could be without a home for quite some time. You'll be grateful you have those resources to fall back on.
What are the flood risks in your area, and how are you prepared for them?