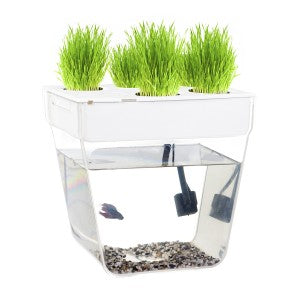 If you want to grow fresh veggies at home, but don't have the space, we've got a cool way to do it. All you need is an Aquafarm™. Using the Aquafarm™ (and a Betta fish), you can create your very own countertop aquaponics garden for fresh herbs, veggies, and leafy greens. It's especially great if you don't have the space, time, or energy to create a traditional garden or aquaponics system of your own.
How does the Aquafarm™ work?
The Aquafarm™ is a small aquaponics system that essentially creates a small ecosystem in your home. Aquaponics is a method of growing fish and vegetables together where each organism helps the other to survive and thrive. It's symbiosis at its best. In essence, as you raise fish in a tank, their waste is used to fertilize the plants you will eat, and in turn, the plants help to clean the water the fish live in, helping the fish stay healthy. Here's how the Aquafarm™ works:
The water from the fish tank is pumped up to the plants into a grow tray at the top of the tank. The plant roots become a "biofilter" that breaks down harmful ammonia in the fish waste and turns it into nitrates that the plants then absorb as food.
After this conversion process, clean water is circulated back into the fish tank—ridding the tank of all the accumulated fish waste.
Your plants grow in the grow trays at the top of the tank, giving you fresh veggies like leafy greens, wheatgrass, mixed greens, and a variety of herbs.
You get fresh greens and herbs with minimal effort.
What are the benefits of having an Aquafarm™?
Besides the obvious benefit of the Aquafarm™ (fresh veggies), there are some other great reasons to have one if you're a fish owner, gardener, or interested in emergency preparedness.
First if you've ever owned a fish, you know they're tricky to keep alive. Toxicity, swim bladder, and algae growth are all common problems in a fish tank that affect the overall health of the fish (like I've learned all too well). The Aquafarm™ helps to reduce these problems as the plants help clean the tank.
Second because I'm an (unintentional) plant killer, the fact that I don't have to constantly water the plants or give them plant food works in my favor. All I have to do is remember to feed the fish and nature will take care of the rest.
Third the Aquafarm™ will help me get one step closer to self-sufficiency. Use the food you grow to supplement your food storage supplies if you run out or just want fresh veggies.
So if you're like me and want your fish to clean up its own tank and earn its keep in your home by giving you fresh veggies, consider getting an Aquafarm™! And if you're interested in building your own medium-to-full-sized Aquaponics system, check out our
Aquaponic Gardening series
written by our guest blogger and customer, Kevin White. He tells you how to get started and what supplies and materials you'll need. -Angela