By now, most of you have probably seen this historic image of the California snowpack. In January, NASA and the National Oceanic and Atmospheric Administration (NOAA) released photos showing the dramatic effect the California drought has had on the state's landscape and snowpack. As the picture below shows, much of the greenery, snowpack depth, and precipitation in California's Sierra region has dramatically decreased within just a year. According to Southern California's NBC affiliate station, the runoff from the California mountain range is a key source of water for California communities and growers. It accounts for about one-third of the state's water.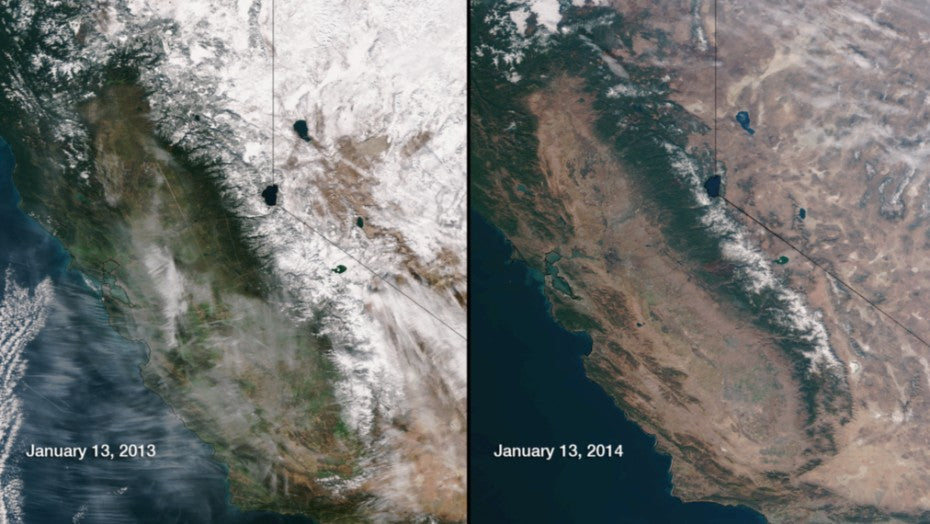 In late March, the Sierra Nevada region received some much needed snowfall, but Mark Cowin, Department of Water Resources director, believed even then that the drought was far from over. Fast forward to early April—surveyors skied into the Sierra Nevada to measure the snowpack level. Surveyors measure the amount of water that melts from the snowpack into the streams and reservoirs below. In April, the snowpack was about 32 percent of the average water content. The most recent measurement of the snowpack, taken on May 1
st
, reveals that the situation is not getting any better. After taking the final measurement of the snowpack for the wet season, California's Department of Water Resources revealed that the snowpack is now at 18 percent of its average water content level. SoCal's NBC news station states, "Water managers have said the northern Sierra snowpack that feeds California's major reservoirs is 9 percent of average, and those reservoirs are only half full." Since the snowpack is a major source of water in the state, its depletion is a serious issue for the entire state, especially with the hot and dry summer months approaching. As Mark Cowin stated, "This drought is a wake-up call that we all have to take water conservation seriously and make it a way of life." You can take simple steps now to practice water conservation. Learn how to conserve water by taking our "
Gallon Challenge—EE Style
" You'll be surprised by how much water you use in a typical day, especially when you only have one gallon for your cooking, drinking, and sanitation needs. Use this challenge to determine how much water to have in your family's home water storage. If you would like to know what to do to begin conserving water, check out this article to get started:
45 Ways to Conserve Water
.
What tips do you have for conserving water?
--Angela Photo Courtesy of National Journal Sources http://www.nationaljournal.com/energy/the-california-drought-as-seen-from-space-20140204 http://www.nbclosangeles.com/news/local/Sierra-Nevada-Snowpack-California-Drought-257500871.html