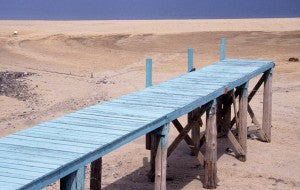 This post is the second installment of a three-part series highlighting the 2014 California Drought. Check out Part One of the series: "California Drought: Four Months in Review"
For the last three to four years, drought conditions have spread all across the western US, but recently, California has been hit the hardest, facing dry temperatures and withered land. The following infographic from Drought Monitor shows you just how dry (and as a result, at risk for fires) certain areas of California are. 100% of the state of California is now in "severe" to exceptional drought.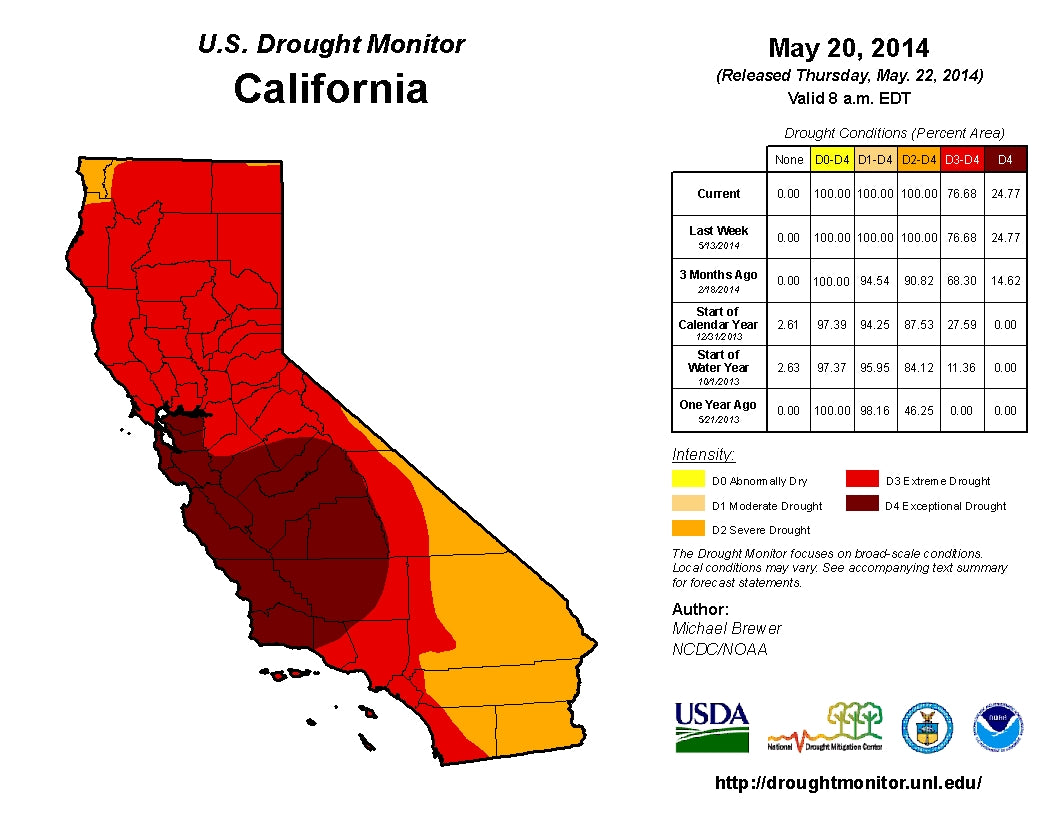 Conservation Mode
The state is in emergency water conservation mode until further notice. According to Kathleen Miles from the Huffington Post, Governor Brown has advised residents to cut their water use by 20%. Homeowners who don't promptly fix leaks have been fined by city governments. Coin-operated car washes must only use recycled water. Restaurants and private citizens are encouraged to use paper plates and cups, and water is served in restaurants only upon customer request. Newly-constructed swimming pools may not be filled. Earlier in the year, cities were squabbling over who gets how much water; and in Mendocino County, the sheriff's office is keeping a close eye out for water thieves who try to pump water from Lake Mendocino into trucks and haul it away to sell or use. According to a Huffington Post article from May 16
th
, 40 city employees in Sacramento have even been "re-designated as 'water cops' tasked with reporting and responding to wasteful maintenance."
Industry Affected
Tourism is also adversely affected. California's ski industry struggled all winter for the lack of snow. Fishing has been banned in several rivers to protect drought-stricken salmon and steelhead trout that may be in danger of extinction if the drought continues. The wine industry is also suffering, with grapes growing slowly and ripening before they've reached mature size.
Wildfires Increase
California is especially vulnerable to wildfires during times of drought. On average, 69 fires are reported monthly during normal conditions; however, just from January 1 to January 25 of this year, 406 wildfires were reported. The California wildfire season typically occurs during the summer and fall, but the drought has caused wildfires to become an all-year-round occurrence. According to the
National Journal
, as of May 15
th
"brush fires in California had burned nearly 10,000 acres, destroyed 30 homes, threatened multiple military facilities, and forced thousands to evacuate." The state has also faced a series of heat waves, with highs between 98 and 106 degrees F that are not helping the situation. These drought conditions are severely taking a toll on daily life in California and other areas in the west. Check out our Insight Articles to help you conserve water in the future by building up your own
water storage
supply today:
Tomorrow, check out Part III of our California Drought Series "California Drought: the Impact on Farming and Produce"
-Sharon, Kim, and Angela Photo Courtesy of the United States Drought Monitor
Editor's Note:
Correction to a statement made in an earlier version of this article. Lawn watering and car washing has not yet been banned in California. Watering has been reduced to two days a week and car washing has not been reduced yet. Residents are asked not to water sidewalks in an effort to conserve water. Sources: www.blogs.usda.gov/2012/08/10/us-drought-and-your-food-costs
www.theundergroundsite.com/california-drought-could-impact-world-food-prices
http://www.huffingtonpost.com/2014/01/30/california-drought-effects-500-years_n_4647529.html
www.trippapparel.com/2014/18697 www.earthobservatory.nasa.gov/Feature/LakeMead
www.usatoday.com/story/theoval/2014/02/14/obama-california-drought-aid-vilsack/5479121
www.nytimes.com/2014/02/15/us/politics/obama-to-announce-aid-for-drought-racked-california.html?r=0
www.westernfarmpress.com/blog/obama-administration-misses-boat-drought-assistance
http://www.huffingtonpost.com/2014/05/16/california-drought_n_5340596.html http://droughtmonitor.unl.edu/Home/StateDroughtMonitor.aspx?CA
http://www.nationaljournal.com/energy/california-s-wildfire-season-has-ravaged-nearly-10-000-acres-so-far-20140515
http://www.capradio.org/articles/2014/02/06/drought-forces-broadest-fishing-ban-in-state-coho-at-risk-of-extinction/