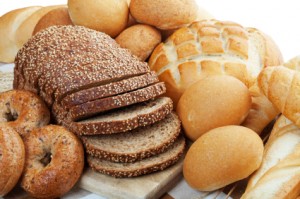 What could smell more appetizing than the fragrance of baking bread? It conjures memories of visits to Grandma's house or our favorite bakery, but to the novice, the prospect of making bread seems daunting. This fear of not having your bread turn out as perfectly as Grandma's is what has made bread making a (nearly) lost art. Actually, with a few tips, it isn't difficult—and it's immensely rewarding! Using a bread mixer can expedite the process, but you can also make excellent bread by hand. If you're interested in a high-quality mixer, consider the "Bosch Universal Mixer." Otherwise, you will need a large mixing bowl, a sturdy spoon, measuring cups and spoons, several loaf pans, and a non-stick surface on which to knead the bread (a pastry sheet, parchment paper, an oiled baking sheet or a clean, floured countertop should work).
Whole Wheat Bread
Ingredients:
7-8 cups of wheat flour
freshly ground if possible
,
medium-texture. If you're nervous about using all whole wheat at first you may substitute 2-3 cups of white flour for the same amount of whole wheat.
1/3 cup granulated lecithin or 3-4 Tablespoons of dough enhancer.
(Our Provident Pantry Dough Enhancer helps make fluffier and stronger dough with great flavor and less of a tendency to be dry and crumbly when baked. It also adds to the shelf-life of the finished bread. This product is a blend of natural ingredients, not chemicals.)
1/3 cup oil
(canola is preferred)
1/3 cup honey, molasses, or sugar
1 tablespoon salt
3 tablespoons yeast
You may want to test your yeast before mixing to be sure it's live and viable. In a large (4-cup) measuring cup, combine 1 cup of warm (not hot) water and 3 tablespoons of yeast. Wait about ten minutes and if the yeast has grown and puffed up to the top of the cup it will definitely leaven your bread.
Directions:
In large mixing bowl combine 3 cups warm water, lecithin OR dough enhancer, oil, honey, molasses, OR sugar, and salt. (Mix with an electric mixer if you have one.) Stir in 5 cups of flour and mix until moistened, using a spoon if it gets too thick. Let this mixture rest for a few minutes. Add yeast and water from measuring cup and mix well. Add about 1 ½ cups more flour, stirring until dough begins to pull away from the sides of the bowl, adding small amounts of flour at a time until that happens. (You don't want your dough to be too stiff or the bread will be dry. The dough should be about the consistency of soft chewed bubble gum—stretchy and pliable.) Oil your hands well and turn the dough out onto an oiled or floured surface. Knead gently with heels of your hands, then fold dough over and punch to get rid of air bubbles—this may take 8 to 10 minutes until the dough is satiny and holds together. With oiled hands, divide dough and form into balls that fill about 2/3 of the greased loaf pans you are using without topping the rim. You don't have to pat down the dough—it will expand to fill the pan as it rises and bakes. Rising times are approximate, depending upon temperature and humidity in your kitchen. If it's a cool day, you can place your bread to rise on the top rack of an unheated oven with a pan of very warm water on the lower rack. 80 degrees is the perfect temperature for dough to rise. At this point, if you'd like to make some dinner rolls you can form them as you desire: Three small balls placed in the cup of a greased muffin tin will give a cloverleaf shape. A ball formed with an oiled ice-cream scoop will give a round dinner-roll shape. If your menu includes hamburger buns, roll part of your dough out on a floured surface about ¾ inch thick, and use a round cutter (a large jar lid will work) to cut the buns out. (Buns can be topped with sesame or poppy seeds or sautéed onion bits if desired.) Carefully move dinner rolls or buns to an oiled baking sheet and set that plus your loaf pans on a double-thickness of towels in a warm, level place. Cover with another towel. Allow the dough to rise for at least 45 minutes or until it has doubled in bulk. Bake as follows:
Bread: approximately 45 minutes at 350 degrees
Dinner rolls: 12-15 minutes at 400 degrees
Hamburger buns: 20-25 minutes at 375 degrees
Check your bread about halfway through baking time to see if the top is browning too quickly. If it is, cover with a piece of aluminum foil to slow that down. When bread should be done, tap the top crust—if it gives a "hollow" sound your bread is done. Turn bread out onto racks to cool immediately as allowing them to cool in the pan will cause a "steaming" effect of the crust. Bread may be sliced as soon as it is cool enough to handle. Prepare to enjoy!
Storing your bread:
Completely cooled bread should be wrapped in foil or plastic. Do not refrigerate unless you know you can't use the bread within a few days. Bread can be frozen. Wrap well and freeze for up to 3 months. Unbaked dough can also be frozen successfully for up to 3 or 4 weeks.
Yummy variations:
Cinnamon Rolls
Roll half the dough out on a nonstick surface in a rectangular shape about ½ inch thick. Spread with softened butter or margarine and sprinkle generously with cinnamon and sugar. Add raisins or nuts if desired. Beginning at one end of the rectangle roll the dough into a cylinder shape, then cut into slices about ¾ inch thick. Allow to rise till double in bulk, and bake 18-20 minutes at 375 degrees. Frost as desired. (Do not freeze frosted rolls—frost them once they're thawed.)
Orange Rolls
Hold the cinnamon, nuts, and raisins, and instead add a sprinkle of orange zest (finely-grated orange peel) to the buttered, sugared rectangle of dough. Roll, cut and let rise and bake like cinnamon rolls. Frost with a powdered sugar/orange juice glaze.
Dilly Bread
Use half white and half whole-wheat flour, ¼ cup honey or sugar, and add 1 beaten egg, 3/4 cup cottage cheese, ½ tsp. baking soda, 1 tablespoon dried minced onion and 1 Tablespoon dill weed (and/or dill seed, if preferred) to the first mix of ingredients as you prepare your dough. After dough is kneaded, allow it to rise in an oiled bowl until double in bulk, then punch down and knead again. Form into 2 large balls and place each in an oiled round casserole dish. Allow to rise again for about 40 minutes then brush with melted butter and sprinkle with salt. Bake at 375 degrees for 50-60 minutes. This bread smells heavenly baking and is delicious with cheese, pot roast or ham—or just buttered for a snack or treat.