Whipped topping from beans. Tortillas and egg roll wrappers from flour. Yogurt and "Hamburger Helping Mix" from powdered milk. I love to stock food storage staples this time of year. Thanks to the holidays, and holiday bakers, stores everywhere have sales on beans, flour, milk and other baking staples. These staples are incredibly versatile, and they've saved me hundreds if not thousands of dollars over the years. The internet is awash in do-it-yourself recipes to turn these basic ingredients into other pantry items, meals, and mixes. Some of my favorite sites are allrecipes.com, food.com, budget101.com and the
Utah State University extension service
.
Beans
Beans are undergoing a renaissance in the food substitution world. They add protein and fiber, and replace some of the fat. I've found
recipes for black beans in brownies
, and I recently ran across this recipe for making whipped topping out of bean liquid. Seriously. To grow some quick veggies,
try sprouting dry beans
. I've enjoyed this recipe for black bean veggie burgers that uses food storage ingredients,
adapted from a recipe at allrecipes.com
.
Homemade Black Bean Veggie Burgers
Ingredients
1 (16 ounce) can black beans, drained, rinsed and dried 1/2 green bell pepper, cut into 2-inch pieces, or equivalent dried green bell peppers 1 1/2 tablespoons dried minced onion ¾ teaspoon garlic powder 1 egg 1 tablespoon chili powder 1 tablespoon cumin 1 teaspoon hot sauce ¾ cup rolled oats
Directions
If grilling, preheat an outdoor grill for high heat, and spray cooking spray on a sheet of aluminum foil. If baking, preheat oven to 375 degrees F (190 degrees C), put aluminum foil on a cookie sheet, and spray foil with cooking spray. Put waxed paper on a cookie sheet and spray it with cooking spray. In a food processor, mix together bell peppers, dried minced onion and garlic powder. Add rolled oats and process. In a small bowl, stir together egg, chili powder, cumin, and chili sauce. Add to mix in food processor and process. Add black beans and puree. The mixture should be sticky and hold together. Divide mixture into four to five patties on the waxed paper cookie sheet. Freeze for at least a half hour. Put the frozen patties on foil if grilling, and grill about 8 minutes on each side. If baking, place patties on foil-lined baking sheet, and bake about 10 minutes on each side.
Flour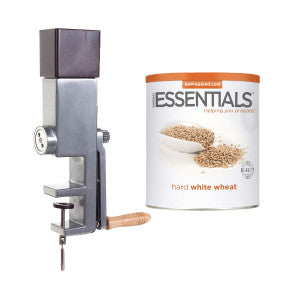 Flour's not just for bread and desserts. (Though, offhand, I can't think of a better use for it.) I've made
homemade biscuit mix
for biscuits, pancakes, waffles and anything else that calls for store-bought biscuit mix. I don't buy boxes of brownie mix. My favorite homemade brownie mix recipe is in the
Make-A-Mix cookbook
, but many others are online. For healthier recipes, substitute whole wheat flour for part of the white flour. You can even grind your own. I've made
noodles
,
egg roll wrappers
, and my favorite,
tortillas
. You know the frozen rolls that you thaw and cook? They're surprisingly easy to make.
Homemade Frozen Rolls
Ingredients
Ingredients for any bread or roll recipe
Directions
Spray a large baking dish and enough plastic wrap to cover it with cooking spray. Follow the directions for your bread or roll recipe through the first rising. Make sure you don't let it over-rise. Punch down the dough, then divide it into balls – larger for larger rolls, small for smaller ones. Put the balls into the baking dish, cover with greased plastic wrap and freeze. When they're frozen, remove and store in a plastic bag in the freezer. To use, thaw on a baking dish covered with greased plastic wrap or on the defrost setting in the microwave, then bake or cook them just like frozen rolls. I use them for rolls, pizzas, flatbread, calzones, etc.
Powdered milk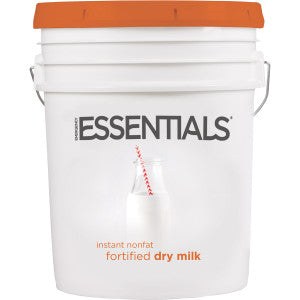 I grew up drinking powdered milk. I loathe the stuff with an unmitigated passion. However, I keep it around because it's quite useful in cooking. The Utah State University extension service has a pamphlet that teaches, among other things,
how to substitute dry milk
for regular milk in recipes. I also use it to
make evaporated milk
, and even
crock pot yogurt
. It's useful in mixes, too. I make and keep a jar of this "
Hamburger Helping Mix
" for quick meals. The main disadvantage to storing and using pantry staples is time: making food from scratch takes longer. If you can Replace the time to make mixes beforehand, though, and get kids involved, it doesn't take that much longer. And the versatility and cost savings of the staples make them well worth buying.

Freeze-Dried Vegetable Chef Combo Giveaway