Seventeen-year-old Raudhatul Mawaddah had read in a comic book that a tsunami usually follows an earthquake. So after a magnitude 9.0 earthquake struck off the coast of Indonesia on December 26, 2004, despite her father's objections, she grabbed her 1-month-old stepbrother and 4-year-old stepsister and ran for the mountain near her home,
according to an October 2007 UNICEF report
. Her home was four kilometers (about 1.3 miles) from the ocean, but it was still hit by flood waters from a tsunami. When the water receded, a stranger's body was left on her family's kitchen floor.
That tsunami killed 230,000 people
, including some 5,000 miles away from the earthquake's epicenter. But Raudhatul's family survived. It can be tough to prepare children for natural disasters. You might be afraid of scaring them or giving them nightmares. You might not know what's age-appropriate. Yet
studies agree
that children who learn about disasters in a safe environment are less afraid during a disaster. Here's the nice bit: You don't have to figure out how to teach children about emergency preparedness by yourself. PBS Kids, Disney Junior, Sesame Workshop: all have released TV shows and related tools to help with disaster preparedness and coping. Here are some I found.
Sesame Street, 2001
The granddaddy of them all. Seriously. This was
the earliest emergency preparedness episode
I could Replace. It came out in 2001 and was rebroadcast after Hurricane Sandy in 2012. In this episode, Big Bird's nest is destroyed in a hurricane. His friends and neighbors come together to help him rebuild, Replace places to eat, sleep, and play, and help him cope with his emotions.
Sesame Street, 2014
In October 2014, Sesame Street also released its "
Let's Get Ready
" series. It offers tools to help kids learn important information like their full name, phone number and names of other family members, like an app, printables and short videos. It also gives information about how to create an emergency plan and how to cope after an emergency.
The Pillowcase Project, Disney Junior, and American Red Cross,2012
[caption id="attachment_18437" align="alignright" width="300"]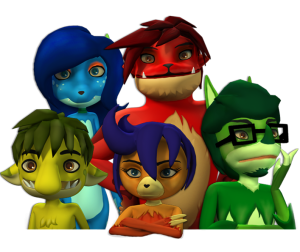 Monster Guard[/caption] After Hurricane Katrina, the New Orleans chapter of the American Red Cross developed the Pillowcase Project, a preparedness education program for children in grades 3-5. It encourages kids to prepare by packing a pillowcase of emergency supplies that they can quickly grab for an emergency evacuation. Disney produced a
public service announcement
for older kids and created
a booklet
starring Mickey Mouse and other characters from the TV show
Mickey Mouse Clubhouse
. The partnership also produced an app,
Monster Guard
, in which kids play games to learn about preparing for various types of emergencies.
Doc McStuffins, 2015
Through Doc McStuffins, the title character of a Disney Junior show who repairs toys and teaches about life skills, Disney expanded the pillowcase project to preschoolers for this year's Disaster Preparedness Month.
In a one-minute public service announcement
, Doc prepares an emergency kit with flashlight, clothes, blanket and snacks, and makes an emergency plan with family contact information.
Daniel Tiger's Neighborhood, 2015
"Take a grownup's hand, follow the plan and you'll be safe," my kids now sing. Over and over and over again.
Daniel Tiger's Neighborhood
is a preschool TV show based on characters from Mr. Rogers' Neighborhood. In a story that lasts a full episode, when a big storm hits the neighborhood, everyone stays safe. They follow a storm safety plan that includes sheltering in a safe place, making an emergency kit, and helping others clean up afterward. The episode also comes with
tips and games
.
Arthur, 2015
This month, PBS Kids also released an episode of
Arthur
, a cartoon for school-age children, in which the characters coped with the aftermath of a hurricane. Again, PBS Kids provided
tips and games
to help kids be more resilient after a disaster.
Ready.gov, 2015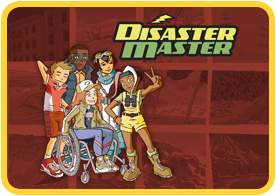 FEMA's web site Ready.gov has a game, "
Disaster Master
," emergency plan and kit information for kids and information about how to get wireless alerts. - Melissa
Do you know of any other good TV shows or games to help teach kids to prepare? Let us know in the comments section!