In a throwback to World War II, many British supermarkets have been
rationing lettuce
. Zucchini and satsuma (Mandarin orange) supplies
have also been limited
. And now, market experts are predicting a global
olive oil shortage
. It's all due to poor growing conditions in southern Europe. In southern Spain, which supplies half of Europe's vegetables and a quarter of Britain's, freezing temperatures and flooding
decimated crops
. At the same time, unseasonably hot temperatures in Greece and Italy
damaged olive groves
. Your food comes from everywhere. One interest group estimated the average meal in the United States
travels 1,500 miles from farms to your plate
. A disruption anywhere along the route – poor weather or shipping problems, for example – can cause anything from a price hike to rationing. Canned or dried food storage can ensure a long-term supply of many fruits and vegetables. But let's face it, you can't can lettuce. And other produce just tastes better fresh. So consider growing a garden. This time of year is the best time to plan one. In some places, you can actually start sprouting early season seeds at the end of February.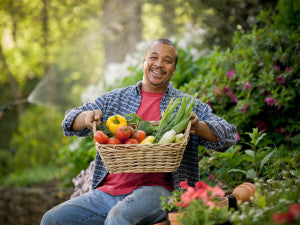 Start by identifying a space. It can even be your porch, if you want to use a garden box or straw bales. Think about using flower beds. I grow garlic chives between my rose bushes. They have a mild garlic flavor that I use in salads and cooking. And the plants may prevent some pests in the roses.
Consider factors
like light, soil, and water. I have a fairly large space for a vegetable garden. But it's far away from my household water sources. Every year, I have to stretch hoses across my yard to my garden and fight the corresponding loss of water pressure.
Next
, figure out what you want to grow and how much to plant. Think about what your family will eat. Consider what grows best in your area.
The U.S. Department of Agriculture
produces hardiness zone maps that tell the average minimum temperature in your area.
The American Horticultural Society
produces heat zone maps that tell the average of number of days the temperature in your area reaches 86 degrees. You need both of those, plus the
frost-free dates
for your area, to know what to grow and when to plant. If you glance at a seed catalog, you'll realize there are numerous varieties of each plant. They can be divided into two types of seeds: heirloom and hybrid. Heirloom seeds are nice because if you save the seeds from your plants year after year, they'll produce the same types of plants. If you collect the seeds from hybrid plants, their genetic traits will be scrambled so they won't work as well the next year. However, hybrid seeds can be bred for different traits like flavor, disease resistance, and quick growth. So in some areas they're the better option. We sell
canned heirloom garden seeds
and heirloom herb seeds. Normally, most seeds are good for only a year. These seeds will last longer because they're packed to keep moisture out. They're recommended for climates with shorter growing seasons but are adaptable to other temperature hardiness zones. Do your research, however, because there's a huge difference in soil type and garden pests between, say, a USDA hardiness zone 6 in Utah versus a zone 6 in Virginia. To get the best varieties of plants for your area, check your state university's agriculture extension service. It will give you a few varieties that grow best in your state. (Here's Utah State University Extension's vegetable page.) Then, go to a nursery that grows its plants locally. Employees there can help pick the best type for your town or city or yard's climate. This is only a beginning. You can Replace reams of information online about sprouting seeds, companion planting, and composting and soil preparation, among other topics. To get the best garden, you'll need to do a lot of research. That's why now is a good time to start. In most places, you don't have be a great gardener to get some results. I'm a terrible gardener, living in an area where the soil is clay and rock, but last year one of my cherry tomato plants grew to 7 feet tall and produced a pint's worth every other day for months. (I couldn't get zucchini to grow, however, unlike about everybody else.) Try growing something. Then add something else. Over time, you can develop a great garden that can help tide you over in case a food supply problem elsewhere causes a shortage in your area.