Similar to other emergency drills practiced for
earthquakes
,
fires
, and
tornadoes
, this drill is intended to familiarize your family with a difficult situation. They may also become more confident and prepared to deal with other challenges that could arise. Use wisdom and caution when trying out this challenge.
Keep members of your family well hydrated and it will be a good experience for everyone.
The Challenge
Consider living at least 24 hours with only one gallon of
stored water
per family member per day. For example: a family of four would need to live off of 4 gallons of water for a 24 hour period. You may be thinking this will be easy. Anyone can go without cooking or extensive cleaning for 24 hours. You can expect that your children will have no problem drinking less than a gallon of water per day. However, consider average water usage in non-emergency situations. (Pic)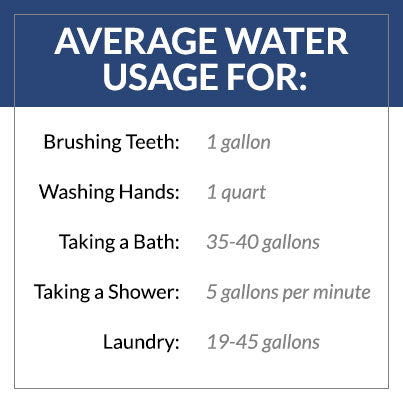 When you begin to consider
sanitation
,
cooking
, and
washing clothes
you'll notice that one gallon of water is an absolute minimum. After completing this challenge you may want to take some time to evaluate what occurred and re-evaluate your family's preparedness plans. Were the proper tools available to cope with limited water use? Would one gallon of water per person per day be sufficient for your family? Most recommendations are for 2-5 gallons of water per person per day in an emergency. Spend some time discussing the results with your family and adjust your plans accordingly.