I have a new favorite website. And bizarrely, it has nothing to do with British television or decorating with old maps (my current obsessions). In fact, it seems like it should be better suited to the tough guy I'm married to—and yet, I can't look away! It's called
Hunter.Angler.Gardener.Cook
(honest-food.net). It's written by a guy named Hank Shaw who used to be a political journalist but now writes recipes.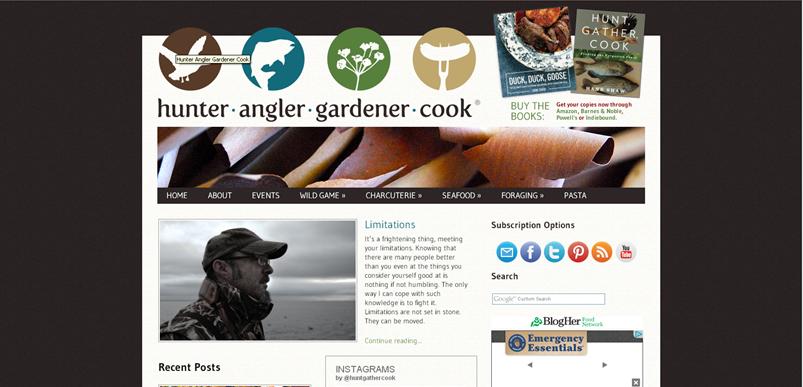 Cray recipes.
Crazy, wonderful recipes using edibles he either shoots, catches, Replaces, grows, or (occasionally) sources locally. Hank describes himself as an "omnivore who has solved his dilemma." He's published two books, contributed to an endless stream of both outdoors and food magazines, and has even appeared on television to demonstrate his culinary skills.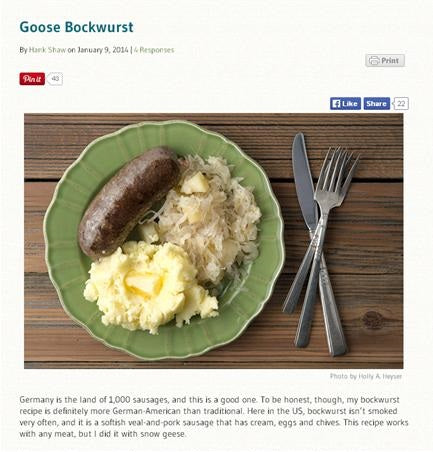 The website is primarily a recipe archive, and I have to admit, those food photos are the big draw. But it's the extras that make this site such a treasure. Categorized by main course (wild game, seafood, etc.), each heading provides how-to's (do you know how to cut up a squirrel?), hunting tips (did you know seasonal diet will determine bear meat's flavor?), video tutorials (any idea how to fillet a skate?), as well as extensive links and references, and some pretty fantastic essays.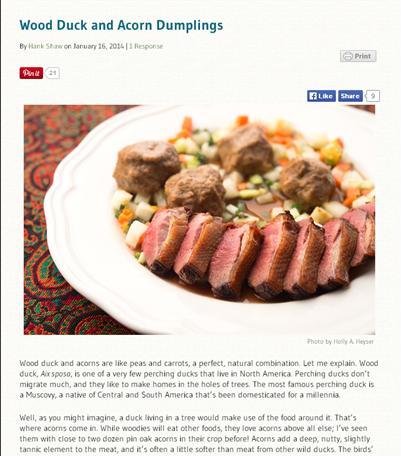 And did I mention the recipes? If you hunt or know a hunter, you've probably had a fairly decent deer roast. And the down-to-earth Hank would not turn you away if you offered him a bite. But how about French frog legs, partridge Escabeche, or grilled boar heart with peppers and onions? Not to mention squash spaetzle, stinging nettle ravioli, and acorn flour pasta. And he has a whole category dedicated to the "wobbly bits," as he calls them: heart, liver, and whatever else I usually make my husband throw away before roasting the Thanksgiving bird. Talk about stretching your resources! What
Hunter.Angler.Gardener.Cook
advocates is twofold. First it challenges us to expand our conception of food. Nature's readily available bounty includes plants and animals that we're not used to thinking about in terms of meals, but which could absolutely sustain us (and in shameless gourmet style, Shaw demonstrates!). And secondly, it encourages us to widen our skill set. In an emergency and without other resources, could you shoot a squirrel or identify an edible mushroom? True preparedness isn't just about stockpiling resources, it's also about knowing how to access what is available outside your storage cupboard. --Stacey