One of the most dangerous threats to an injured person is unnecessary movement. Moving an injured person can cause additional injury and pain, and may complicate the victim's recovery. Generally, you shouldn't move an injured person while treating them. If at all possible, wait for trained first responders so you don't cause the victim more harm. However, there are certain circumstances where it becomes absolutely necessary to move an injured person away from the scene. If you witnessed or were involved in an accident where someone was injured, would you know whether it's safe to move that person for immediate treatment or if it's better to leave them where they are until emergency responders arrive? In this article, I will help you learn what to do if you Replace yourself in a situation where you have to move an injured person to safety.
What should you do first?
Anytime you see an accident or an injured person, dialing 911 immediately is the key to getting help there as soon as possible. As you wait for help to arrive, there are some things you can do to help the injured person remain calm, while also keeping yourself safe. Before you go towards an accident or an injured person, make sure the area is safe to enter. You don't want to get injured or killed by rushing into an unsafe environment to help someone else. If the area is safe, proceed to the injured person and try to keep him or her calm and still:
Talk to them and explain what has happened.
Let them know that they need to stay still so they don't cause further harm or injury to themselves.
Tell them that you will be with them until help arrives.
Always be on the lookout for safety hazards. If things change and the situation becomes unsafe, you may need to move yourself and the injured person to a safe location and wait for help to arrive.
When to move someone
If someone has minor injuries or seems like they're not hurt at all, they could most likely move themselves to safety. But if they seem confused, complain of back or neck pain, have severe abdominal pain, or are bleeding, it's best to wait for first responders. However, there are
definitely
times when the injured person
needs
to be moved
to prevent further harm. These could include:
When they are faced with immediate danger, such as an unsafe accident scene or traffic hazards, fire, lack of oxygen, risk of explosion, or a collapsing structure.
When you have to get to another person who may have more serious injuries. You may have to move a person with minor injuries to reach someone needing immediate care.
When it's necessary to give proper care. For example, if someone needed CPR, they need to be moved from a bed or couch because CPR needs to be performed on a firm, flat surface.
How to move them
If someone needs to be moved, try not to bend or twist them if possible. When they are lying on the ground, grab their shirt at the top of the shoulders, and using your forearms to cradle their head, pull their shirt to drag them in a straight line to a safe location.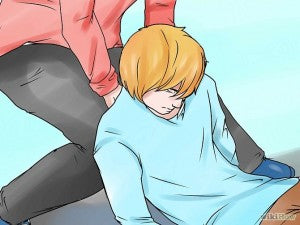 Photo courtesy of wikihow.com
You can also drag them by their feet—make sure you drag them in a straight line. If they have back or neck pain, you need to keep them flat and straight. Make sure their neck and spine are as straight as possible, so you can move them to safety without further injury. If there happens to be something hard, like a piece of wood, you can log roll the patient onto the object to carry them to safety. A log roll is a move used to turn an injured patient from back to side without flexing the spinal column. The trick is to keep the person's spine straight while placing them on the wood. This technique requires 3 to 4 people—one person to hold the head and neck straight, while the other two to three people roll the body onto the wood.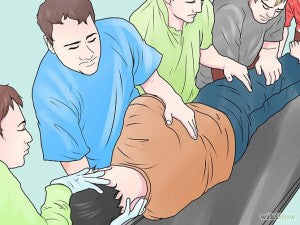 Photo courtesy of wikihow.com
The person at the head will count to three, and all individuals will roll the patient on their side towards them at the same time as the person at the head turns the head to maintain the alignment with the body. Once the person is placed on something hard, the person at the head will again count and roll the person onto their back.
Human Nature
Most people are equipped with an internal need to give compassion and help others when they are sad, don't feel good, or are hurt. Even though these are great emotions to have, there are times when they could cause more harm than good to an injured person. A mother's first instinct when a child is hurt is to run to them and pick them up to offer comfort. But what if that child had been hit by a car, or fell from a tree or window and is seriously hurt? Picking up a child up or moving them could cause severe damage or unfortunate outcomes. Many of us don't think about the consequences that moving an injured person could have if an accident happens. In the moment, we just want to offer comfort and make them feel secure. I would never fault a mother or any family member for running to an injured child and picking them up after something like this happens. But I hope that after reading this article, it will always be in the back of your mind, and that it might trigger something in you, so that if you are ever put into this type of situation you will remember not to move a person unless it's absolutely necessary. The best thing you can do is remain composed and try to keep them as still and calm as possible. If you do this until emergency personnel arrive, you won't risk further injury. Unfortunately, good outcomes don't always happen despite the most professional care and all the advances of medicine. But we don't want to complicate an injury by doing the wrong thing and moving someone when it isn't necessary. We hope you never have to use this skill, but it's worth thinking about (and even practicing), just in case.
Have you ever had to move an injured person? What was your experience?
-Rick