[caption id="attachment_22246" align="alignright" width="300"]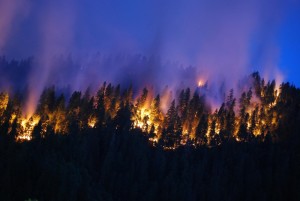 Happy Camp Complex Fire via SCPR[/caption] Way back on August 4,
Popular Science reported
that 2017 was the third-worst year for fires in the last decade. Back then, the story said, 5.6 million acres had burned in the United States. Well, it's gone from bad to worse. Last week, at least 40 people were killed, 5,000 buildings destroyed, and
about 100,000 people evacuated from fires
in northern California. (You can see the smoke plume from a
million miles away
.) Throughout the United States, as of October 13, more than 51,000 large fires have
burned more than 8.5 million acres
-- an area about bout the size of Massachusetts and Connecticut together. "This one in particular has been a longer [fire] season. It really hasn't stopped since the fall of 2016," Chris Wilcox of the National Interagency Fire Center said on
NPR's Weekend Edition
. Indeed. By March 24, 2.1 million acres had already burned,
according to the National Interagency Fire Center
. Most of the wildfires were in drought-laden parts of Texas, Oklahoma, Kansas and Colorado. More than a million acres had burned in those four states by March 7, thousands of people were evacuated and seven died,
according to CNN
. A Kansas wildfire was the largest in the state's history,
the New York Times said
. More than three-quarters of one county was charred. "This is our Hurricane Katrina," an agriculture extension agent with Kansas State University told the
New York Times
.
Florida also saw spring fires
, including more than 115 near the end of April.
In the west
, a cool, soggy winter gave way to a hotter and drier-than-normal summer.
Fire hit drought-stricken Montana
beginning in early July. During the next three months, two firefighters died, thousands of people were evacuated and
more than 1.2 million acres burned
.
A fire in Glacier National Park
destroyed the century-old backcountry Sperry Chalet and closed another 103-year-old hotel. Yet at the beginning of August, the state firefighting fund had $12 million left and firefighting efforts were blasting through it at $1.5 million per day. There's not much relief in sight. Even though some precipitation is falling, most of the state remains in drought, according to the October 10 NOAA drought monitor.
In early September
, overheated Washington, Oregon, and California
all saw conflagrations
. [caption id="attachment_22247" align="alignright" width="300"]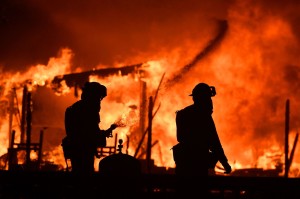 Firefighters battling a blaze in the Napa wine region - via Fox 5 San Diego[/caption] More than 1,000 Los Angeles firefighters
fought the worst wildfire in the city's history
. The
La Tuna fire
was a small one in comparison with so many of this year's massive blazes, but it closed parts of an interstate, destroyed three homes, injured four firefighters, and forced about 1,000 people to evacuate. Areas near Yosemite National Park were hit twice this summer.
A fire in July
destroyed 63 homes and burned more than 75,000 acres west of Yosemite. In early September,
another fire
closed trails and a road into the park and entered a grove of 2,700-year-old giant sequoia trees just outside the park. California's fall fire season is
usually more dangerous than its summer one
, as dry, high-pressure wind from Nevada and Utah yearly blast into the state between autumn and early spring. The winds dry out vegetation, reduce precipitation and spread embers far and wide. Not surprisingly, the National Interagency Fire Center is predicting above-normal significant fire potential for most of western California in October and the southern California coast continuing into the winter. It also predicts Montana will have above normal significant fire potential until its fire season ends in November. And the southeastern United States from Texas eastward should expect above normal significant fire potential through November, the center said. The rest of the United States should see normal or below-normal risk for autumn fires. Lest you get complacent, however,
the fire center predicted the same thing
for Montana for July through September. So especially if you live in an area where homes and wildlands intersect,
pack an emergency kit
. Residents of one trailer park had
just minutes
in the middle of the night to escape with their lives – and without pets and important family items – when wildfire destroyed their neighborhood. Even if you live in downtown San Francisco or other
urban areas
, buy high quality air filter masks, especially if any family members deal with asthma or other respiratory or circulatory problems. Fires even hundreds of miles away can cause air quality to deteriorate to the point that it's unsafe. On the bright side, cold, snow, and other precipitation that comes with winter can slow fires. So be prepared and wait; winter is on its way (eventually).
Melissa Rivera is a jack-of-all-trades who is master of none. She has been a writer and editor for more than 15 years.