[caption id="attachment_19437" align="alignright" width="300"]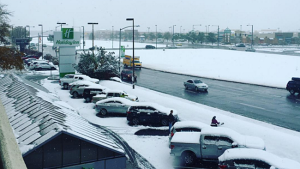 Colorado receives a blanket of white - via AccuWeather[/caption] Winter weather is here.
A storm dumped feet of snow
in Colorado and is bringing snow and wild weather to the Midwest. It's not too late to prepare a home for winter. A few steps will cut energy bills and help keep homes safe. First, prepare the inside. It doesn't take a natural disaster or power outage to make a home's temperature intolerable. A heater dying will do the same thing. My family found that out in February when, while we were in the middle of a major kitchen remodel, our furnace broke. It was on a weekend (of course), so most of the company's technicians were off duty and the one who arrived was inexperienced and couldn't diagnose the problem. We had to huddle in blankets and borrow space heaters from neighbors and friends as the cold air poured through holes in the floor. So tune the furnace, clean ducts, and consider an annual service contract. Change filters monthly. [caption id="attachment_19439" align="alignright" width="300"]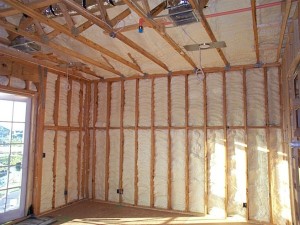 via Energy.gov[/caption] The better a home can retain heat, the safer and more comfortable its occupants will be and the longer its fuel supply will last,
according to ready.gov
. Insulating walls and attics and caulking and weather-stripping doors and windows will make the home more energy-efficient. "If you added up all the leaks, holes and gaps in a typical home's envelope, it would be the equivalent of having a window open every day of the year," according to the U.S. government's
Energy Star program
.
Kiplinger.com
, an investment advice site, estimated sealing a home can cost between $1,700 and $7,000 for a 2,500-square-foot home. However, many utility companies
have programs
that might offset the cost of adding insulation. And heating and cooling bills drop by between 15 and 35 percent in the first year alone,
according to Kiplinger
. Homeowners can do some of the work themselves.
Big box stores
sell equipment to weather-strip and caulk doors and windows. Homeowners can also add or replace door sweeps and adjust locks on window sashes to seal gaps in windows. Kiplinger recommends calling a professional to seal attics and walls and blow in insulation. Contractors should be certified by the
Air Conditioning Contractors of America
,
Efficiency First
, the Building Performance Institute,
Energy Star
or the
Residential Energy Services Network
. Check insulation periodically. When my family moved into our home, our attic only had about six inches of insulation. We hired a professional who blew in another foot. That lasted less than two years. Our kitchen remodelers, breaking through into the attic, found only about six inches of insulation … again. We still don't know what happened. Replacing old windows can cost quite a bit: $300 to $1,000 apiece for Energy Star-qualified windows, and up to double that if the frame needs replacing too,
according to Kiplinger
. However, the site says replacing 10 windows can save about $135 per year in heating and cooling bills. Again, some utilities have rebate programs for certain
Energy Star-qualified replacement windows
. If window replacement is out of the budget,
ready.gov recommends
at least covering windows with plastic. Second, prepare the outside of the home and the yard. If possible, call in an arborist to look for rotting, damaged or dangling tree limbs. That's especially important if a tree is growing near power lines. Trees are involved in about 30 percent of power outages,
according to consumerenergy.com
. [caption id="attachment_19440" align="alignright" width="300"]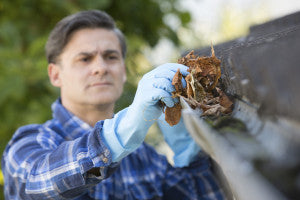 Prepare your home for winter to avoid damage, as well as save money on energy costs.[/caption] At a minimum,
clean rain gutters
yearly, preferably in the late fall. This will help prevent ice building up in blocked gutters,
according to doityourself.com
. As snow melts, blocked gutters can cause it to flow into places it's not supposed to, like basements. "Improper gutter maintenance will lead to clogged or damaged gutters and can cause thousands of dollars in damage to your home's foundation, exterior trim, or basement," the site said. Third, consider alternative energy sources. Like a generator. "Raise your hand if you spent a week in a dark, cold house after Superstorm Sandy tore through the Northeast,"
wrote a columnist for a USA Today
about preparing for winter. "If a big storm is forecast or upon us, no one will have a generator with your name on it." Make sure any generators
vent to the outside
, to prevent carbon monoxide buildup. A fireplace or wood stove is useful for emergency heating, but make sure the flue gets inspected each year, suggested the U.S. Centers for Disease Control. Also, install a smoke detector and carbon monoxide detector nearby. Not only do these winter preparations help keep a home safer and warmer, they help save money. Americans spend about $2,000 per year on energy, according to the
U.S. Energy Information Administration
. Almost half of it is
heating and cooling
. Taking some of these steps will protect family members and save money.
What steps have you taken to fortify your home against the oncoming winter?