Why Have a Year Supply of Food?
Having a year supply of food is more than just for hunkering down and waiting for the next apocalypse to blow over (although it certainly could be used for that, too). Having a year supply of food in your emergency storage can help see you through many a turbulent time.
Think about it. Job loss can happen to anyone – anytime, anywhere. Without a steady income, providing food for your family can be downright difficult. But with a year supply of food storage, you and your family can still eat healthy and well until a new job can be found. Likewise, disasters can block truck routes, damage crops, and otherwise make getting food to the grocery store or to your pantry. Or have you ever seen store shelves be emptied right before a hurricane or blizzard? Having a year supply of food can help you remain relaxed and comfortable when the world around you is buzzing in chaos.
What to Look for in a Year Supply of Food
Your food storage should be based on calories per day rather than amounts of servings. One serving could range from far too small to provide the proper energy and nourishment. By making sure your year supply is focused on calories, you're ensured to have enough of what you need to keep you going. Of course, you can get nearly the same amount of calories from a candy bar as you can from a full, home-cooked meal, but the meal will undoubtedly be more filling. So while you're counting calories, make sure they will sustain you through to the next meal. Empty calories like those found in sweets may taste good, but they won't be very useful in the long run.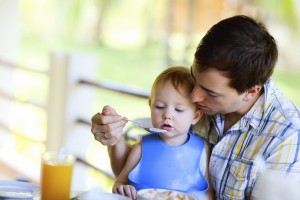 Adults generally require between 2,000 and 2,800 calories per day.
School-aged children
typically need less, ranging from 1,600 to 2,500 calories per day. For children between the ages of 1 and 2, they will need approximately 1,000 to 1,400 calories per day. Of course, there may be certain situations that will require you to tweak these numbers to fit your needs, but on average, this is what you'll need in terms of calories per day. You'll also want to have a variety of foods to provide different health benefits. Some food, like pasta, provides lots of carbohydrates which are a necessary part of your daily diet. Likewise, foods with good amounts of vitamins and minerals will also help maintain your health. Fruit, vegetables, meat, and other foods are all viable options for your year supply. If you're not sure where to start, that's OK. A year's worth of food is quite a bit. To make it easier for you, we've broken it all down into different categories and various other options. Keep reading to learn more about how you can easily get a year supply of food that fits your needs.
Varieties of Year Supplies
[caption id="attachment_17916" align="alignright" width="300"]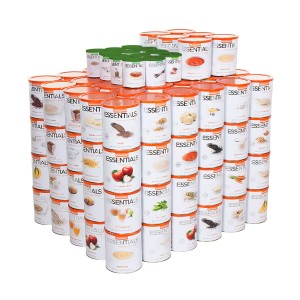 Homemade Plus Year Supply[/caption] When creating your own year supply from scratch, doing the math and figuring out just exactly what – and how much – you need might get a bit confusing. To make things easier, we've created a variety of pre-constructed year supplies so you can get all the food you need and want without the extra effort. And, since your aptitude for cooking won't change in an emergency, we've organized our year supplies by how the food is prepared. Love cooking and making homemade meals? If so, the basics are all you need to whip up delicious meals for you and your family, which makes the Homemade Year Supply or
Homemade Year Supply Plus
the options of choice. These year supplies give you all the cooking and baking essentials you need to create homemade meals from your tried and true recipe book. Not a fan of cooking and prefer boxed dinners and pre-cooked meals? If that's the case, our Convenience Year Supply is the way to go. The meals in this year supply simply require you to add water and your food is ready to it in no time. It also comes with fruits, vegetables, and desserts, helping to round out your meals. Maybe you enjoy cooking from scratch but still enjoy a nice, quick meal as well. Featuring both just-add-water meals and ingredients for cooking and baking, the Variety Year Supply might very well be the option for you. Everyone has different tastes, which is why we have a variety of year supplies to choose from. Each of the year supplies mentioned above contain 2,000 calories per day, however there are also options for supplies with less calories should you like. There are other options for a year supply of food, including buckets and even a year's worth of
grains and legumes
, so be sure to
check out all your options here
so you know what's best for your circumstances.
Other Food Storage Options
If purchasing an entire year supply of food all in one go isn't financially feasible, take it in stride with monthly payment options. Known here as
Prep As You Go
, we send you a portion of your year supply each month for a year. This lets you pay in smaller installments, much like what you might do when buying a car – only without the interest rate. Then, after a year, you'll have that year supply in its entirety. Prep As You Go is an affordable option in getting your emergency year supply together without a lot of hassle. However, sometimes a year supply of food isn't necessarily the best option for you, such as when your finances won't allow it, or your home or apartment is too small. In such instances, smaller might very well be better. Consider investing in a
6 month supply of food
, or even a
3 month supply
, which is still far superior to none at all. In the end, what it all boils down to is how much room you have, what your budget is, and your personal preferences in preparing food. No matter what those answers are, however, there is always room to prepare. Whether it's a full year of food on hand or just three months, your preparations will help keep you safe and comfortable during the hard times.
Click here
to purchase your own Year Supply and be prepared for anything the future has in store!