This post is part of our 2013 12 Days of Christmas, 12 Days of Giveaways series. This series will run from December 3rd to December 18th, 2013. Each giveaway is open for three calendar days. Special offers are open as long as supplies last. Entries must be submitted by 11:59 p.m. Mountain time on the 3rd day. This giveaway is Closed. Click here to see the giveaway items for Day five.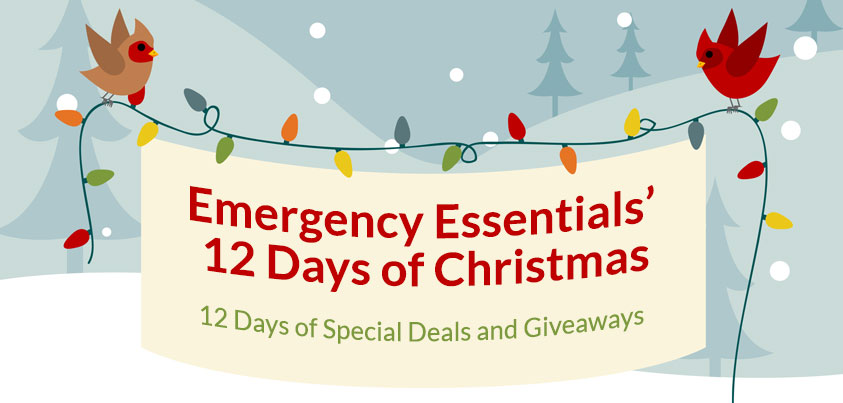 On the sixth day of Christmas, Emergency Essentials gave to me . . . Freeze Dried Neapolitan Ice Cream and MyChoice Milk Chocolate Hot Cocoa Chocolate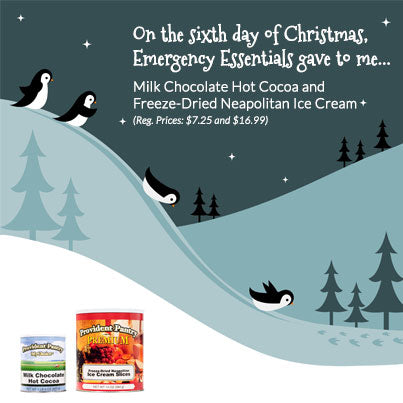 If you've never tasted Freeze Dried Ice Cream, you're in for a treat! What's cool about this ice cream is that it looks like it should be cold and creamy, but instead it's light and crunchy. Once you place it in your mouth, it will melt into the familiar creamy taste of chocolate, vanilla, and strawberry ice cream. It's a fun and novel dessert to serve anytime, but would be a great mood-lifter during an emergency—especially for children. Each can contains 16 individual slices. Our Freeze Dried Ice comes in four varieties: Neapolitan, Chocolate Chip, Mint Chocolate Chip, and Ice Cream Sandwiches. MyChoice Milk Chocolate Hot Cocoa is a rich, comforting drink to curl up with on a cold winter night. The best part is that because it's packaged in a double-enameled can, it will last for up to 25+ years (unopened, of course). Check out this article on
shelf life
for more tips on preserving your food. Even though it can last up to 25+ years, it's up to you how long you can hold out against your cravings! Enter to win these products by taking the quiz below. Get a second entry by sharing today's giveaway post on Facebook.
You have until Thursday, December 12th at 11:59 p.m. Mountain time to enter this giveaway.
Good luck!
Mobile Users:
Click this link to take a mobile-friendly version of today's quiz https://emergencyessentials.typeform.com/to/kfTwok