This post is part of our 2013 12 Days of Christmas, 12 Days of Giveaways series. This series will run from December 3rd to December 18th, 2013. Each giveaway is open for three calendar days. Special offers are open as long as supplies last. Entries must be submitted by 11:59 p.m. Mountain time on the 3rd day. This giveaway is CLOSED. Click here to see the giveaway items for Day four.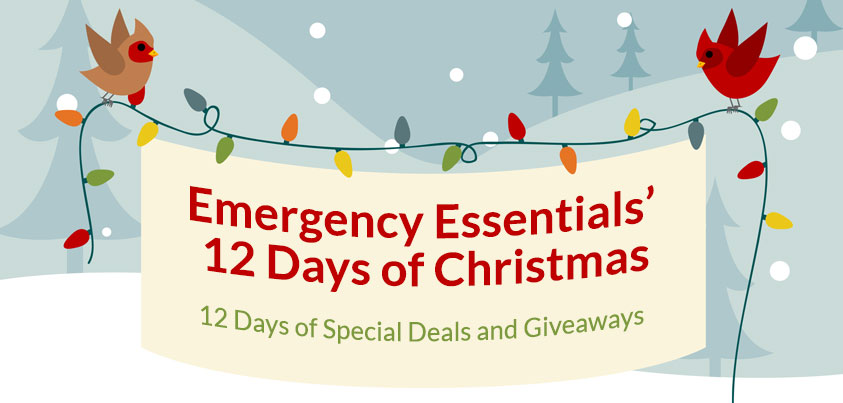 On the fifth day of Christmas, Emergency Essentials gave to me . . . a breakfast fit for a king! Provident Pantry Shredded Hash Brown Potatoes and Buttermilk Pancake Mix, and
Yoders Bacon
will help you make a quick and delicious breakfast anytime.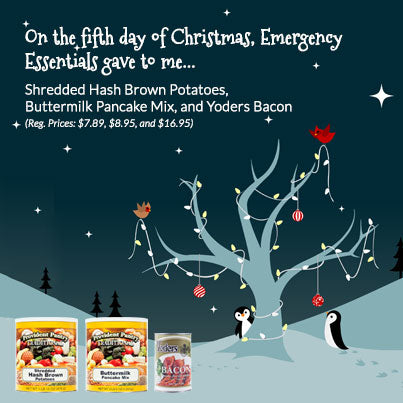 These hash browns are easy to rehydrate and cook with. Fry them up to serve with eggs or to include in a
breakfast skillet
, any
potato casserole
, or in
patties
. Buttermilk Pancake Mix mixes with water for a griddle-ready batter to make a yummy breakfast entree now or in an emergency. (Add reconstituted
freeze dried berries
or other
fruit dices
for a great twist on a classic American favorite.)
Yoders canned bacon
is pre-cooked, and ready to eat, and includes approximately 50 slices per can. It makes a welcome addition to breakfast, BLT's, or
any dish
that calls for good, smoky bacon. Just heat in a pan or microwave to the desired crispness, blot any excess fat with a paper towel, and serve. It's great for camping, everyday breakfasts, or as a food storage item. The manufacturer guarantees a shelf life (unrefrigerated) for 2 years, but if kept in a cool, dry place, it can last longer—assuming you can resist the temptation! This gift has a total value of $33.79. This breakfast is fit for a king and you have the chance to WIN! Take the short quiz below to enter. Remember, you can receive an additional entry if you share today's giveaway post on your Facebook page. You have until Wednesday, December 11 at 11:59 p.m. Mountain Time to enter this giveaway. Good Luck!