This post is part of our 2013 12 Days of Christmas, 12 Days of Giveaways series. This series will run from December 3rd to December 18th, 2013. Each giveaway is open for three calendar days. Special offers are open as long as supplies last. Entries must be submitted by 11:59 p.m. Mountain time on the 3rd day. Click here to see the special offer for Day Three. This Giveaway is Closed.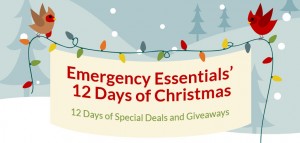 On the fourth day of Christmas, Emergency Essentials gave to me: A BurnFree Emergency Burn Care Kit The BurnFree Emergency Burn Care Kit allows you to treat sunburns, burns, or scalds in a variety of situations (cooking at home, lighting camp fires, working on cars, etc.). BurnFree gel is specially designed to provide quick pain relief by drawing the heat out of the burn rather than just masking the pain. It also helps to minimize scarring.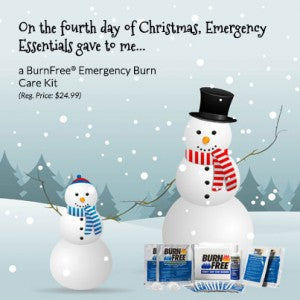 BurnFree is used and trusted by medical professionals and burn centers. The list below shows the industries that regularly use BurnFree, taken directly from
the BurnFree website
.
Leading brand of burn care products in the Occupational Health, Industrial Safety, EMS/Fire, and Military Supply markets worldwide
Products are widely featured by industry leading distributors in the Industrial Safety, Occupational Health and School Health Markets.
Used by the Military in over 20 countries Worldwide
Each kit includes:
1- 4 oz. Bottle of BurnFree gel (store in the kitchen, bathroom, closet, or other areas where burns may occur)
4-Dressings 4"x4" size (pre-soaked in BurnFree and great for covering larger burns)
2-Roller Gauze (soak in BurnFree and cover a burn for instant cooling and relief)
12-1/8 oz. Gel packets (great to add to an [every day carry] with your purse, backpack, or emergency kit)
Check out the power and effectiveness of Burnfree by watching the video at the top of today's quiz. Enter to win your own Burnfree Emergency Burn Kit by taking the quiz below and get a second entry by sharing today's giveaway post on Facebook. You have until Sunday, December 8
th
at 11:59 p.m. (Mountain time) to enter this giveaway. Good luck!