This post is part of our 2013 12 Days of Christmas, 12 Days of Giveaways series. This series will run from December 3rd to December 18th, 2013. Each giveaway is open for three calendar days. Special offers are open as long as supplies last. Entries must be submitted by 11:59 p.m. Mountain time on the 3rd day. This giveaway is CLOSED. Click here to enter the giveaway for Day Ten.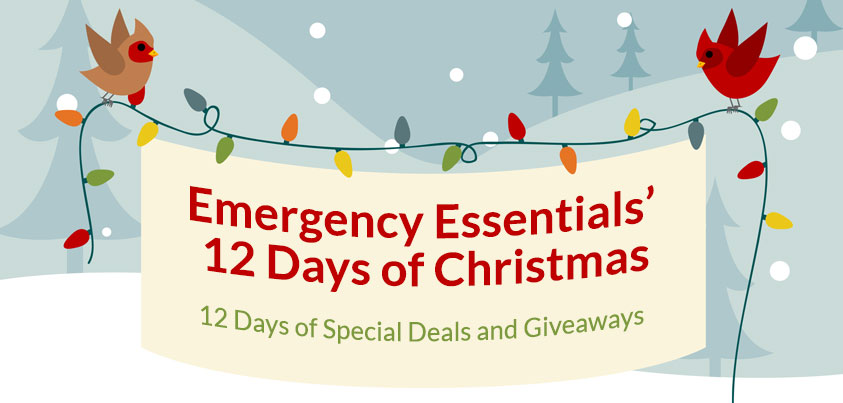 On the Eleventh Day of Christmas, Emergency Essentials gave to me . . . the Basics Emergency Kit!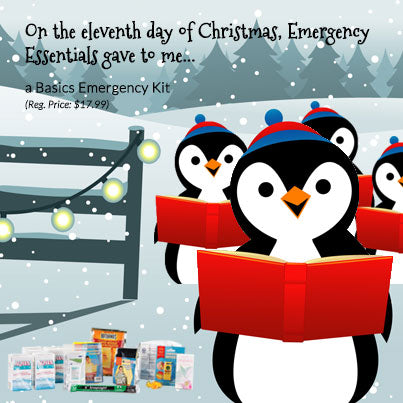 This kit works as either a basic emergency kit or an add-on kit to the supplies you already own. It's easy to pick and choose what items you may need from this kit to add to an existing one. Or just toss the items into a backpack and voilà—you have a completely new emergency kit. A basic emergency kit is a great gift for you or your loved ones because it can help you prepare for a number of situations. Use it at the office, send it with your kids to school, or keep it stashed in the trunk of your car. No matter your emergency, the basics kit will keep you warm and fed during a school or office lockdown or if a flat tire strands you in the middle of nowhere. The kit includes food, water,
light
,
warmth
,
communication
, and more. Check out the links above and take our short quiz below to enter to win! Remember, you can get an additional entry by sharing this post on your Facebook page. Come back tomorrow for our final 12 Days of Christmas Giveaway. Merry Christmas & Good Luck!