This post is part of our 2013 12 Days of Christmas, 12 Days of Giveaways series. This series will run from December 3rd to December 18th, 2013. Each giveaway is open for three calendar days. Special offers are open as long as supplies last. Entries must be submitted by 11:59 p.m. Mountain time on the 3rd day. This giveaway is CLOSED. Click here to see the giveaway items for Day nine.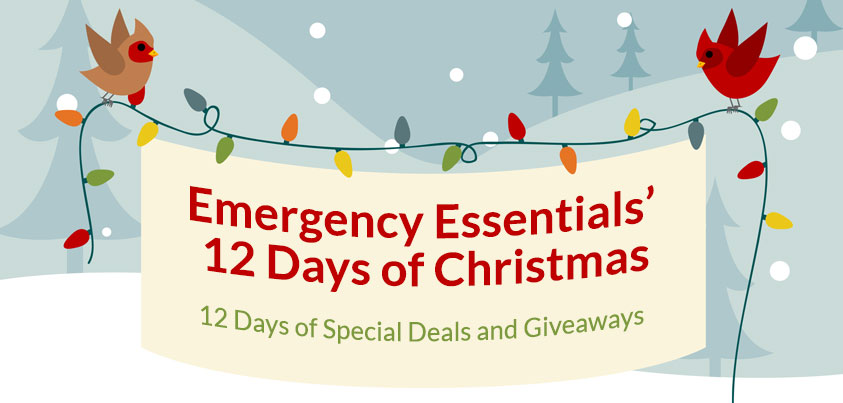 On the tenth day of Christmas, Emergency Essentials gave to me . . .
A #10 can of FiredUp
! and a
Sparkie™ Fire Starter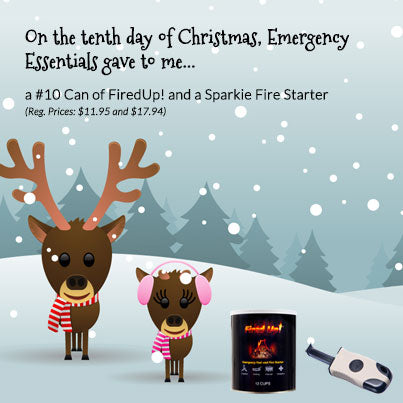 Fired Up!:
This fire starter is the perfect addition to your emergency supplies, camping gear, and even BBQ-ing equipment. . . Made of volcanic rock material mixed with wood pellets, Fired Up! is water-repellent and has a 30+ year shelf-life. Two cups of Fired Up! mixed with your tinder (or even by itself) can burn for roughly 5 minutes, enough time to pile on your kindling and fuel. This safe and reliable fuel source is great for lighting campfires or preparing charcoal briquettes. Fired Up! works well with the Volcano Collapsible Stove and the
Kelly Kettle.
Sparkie
: We are really excited about this brand new fire starter because it's really unique! For starters, it's a one-handed fire starter with a retractable flint-based bar and built in carbide striker that can light over 100 fires! Simply press the flint bar down on a flat surface (preferably, next to your tinder) and you'll generate instant sparks. Secondly, the Sparkie is known for its precision: you can directionally target the sparks to hit your tinder every time. Lastly, it can start a fire in inclement weather. Wind, rain, snow, the Sparkie can light a fire and get you warm fast. Enter to win these products by taking the quiz below. Get a second entry by sharing today's giveaway post on Facebook.
You have until Wednesday, December 18th at 11:59 p.m. Mountain time to enter this giveaway.