This post is part of our 2013 12 Days of Christmas, 12 Days of Giveaways series. This series will run from December 3rd to December 18th, 2013. Each giveaway is open for three calendar days. Special offers are open as long as supplies last. Entries must be submitted by 11:59 p.m. Mountain time on the 3rd day. This giveaway is closed. Click here to see the Special Offer for Day Eight.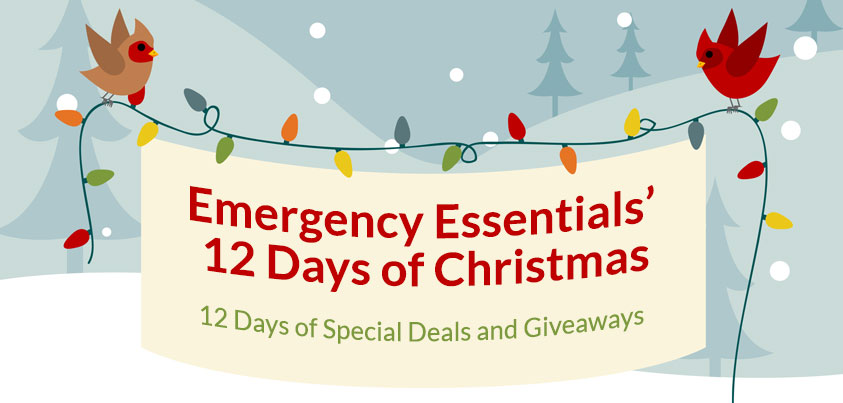 On the ninth day of Christmas, Emergency Essentials gave to me . . . the gift of communication. Today's giveaway item is the Kaito Voyager V1 Dynamo and Solar Shortwave Radio/Flashlight.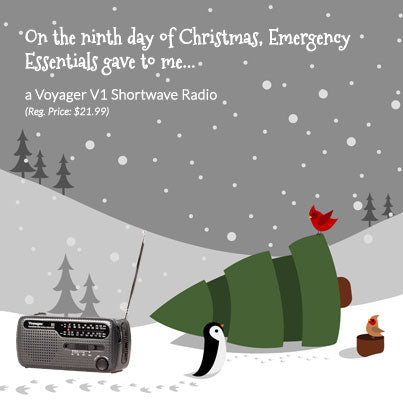 The word "dynamo" is a good description for this small but powerful multi-featured radio and flashlight. It accesses both regular AM/FM and shortwave bands to give you a constant stream of weather updates, warnings, and forecasts. The flashlight has a super-bright LED light with a USB port to power small electronic devices, including most smartphones (it does not power Apple products). The Kaito Voyager has a built-in HD speaker and headphone jack so you can listen to your music or forecasts alone or with your family, friends, and neighbors. Keep your radio charged using one of four options for powering this radio's internal battery. These four charging options include:
3 standard AAA batteries
Solar power, via a built-in solar panel
Through the USB port
By hand cranking: one minute of cranking provides fifteen minutes of listening or one hour of light
The value of this 9
th
Day of Christmas gift is $21.99—unless you're in a situation where you'll depend upon it—then it's priceless! This gift is great for camping, outdoor adventures, or to use in an emergency. Just take the short quiz below to enter. Remember, you can receive an additional entry if you share today's giveaway post on your Facebook page.
You have until Sunday, December 15 at 11:59 p.m. Mountain Time to enter this giveaway
.