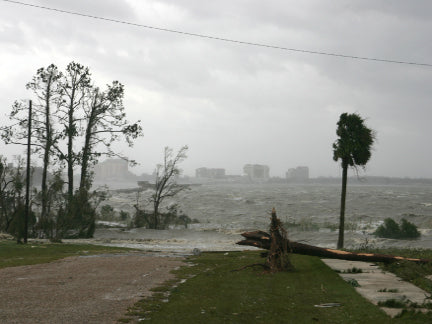 The National Weather Service states, "History teaches that a lack of hurricane preparedness and awareness are common threads among all major hurricane disasters. By knowing your vulnerability and what actions you should take, you can reduce the effects of a hurricane disaster." When preparing for a hurricane, it's important to
not only
be aware of warning signs and critical information about the storm itself, but also to know about the types of supplies you should have on-hand during the storm. The following list provides some basic preparedness supplies, as well as special items to help you face hurricane-specific challenges.
Top 20 must-have supplies for a Hurricane
1. Water
: 1 gallon per person per day for 2 weeks. Don't forget water for cooking, cleaning, and your pets, as well as water purification and filtration supplies.
Fact: According to those who experienced Hurricanes Wilma, Katrina, and Sandy the most important item to have during a Hurricane is water, which quickly sold out at grocery stores. If you live in an urban setting or small space, an Aquapod is a great place to store water before the storm hits.
2. Food Storage
: At least enough for 3 to 7 days. In addition to having non-perishable packaged or canned food, you'll also want to have fuel to cook outdoors in case the power goes out.
3. Solar Power
: If the power goes out, you can easily run a solar generator in your home without worrying about propane, gasoline, or other flammable chemicals. Even having a small solar panel like a Nomad 7 to charge your cell phone or small electronics can go a long way in a power outage.
Fact: During Hurricane Sandy, several residents discovered their solar panels didn't restore their power. In fact, many residential panels are connected to the power grid; if the grid goes down, so do your panels. However, using portable solar panels can help you have a reliable source of electricity, when the power goes out. Check out Goal Zero's portable and durable solar panels to help you weather a storm.
4. WaterProof Containers
: For storing important documents (copies of wedding license, special family photos, social security card, driver's license, map of area, etc.)
5. Cash
: Have cash on hand in small denominations, including change. At least $20.
6. Manual Can Opener
: Make sure to have a manual can opener in case of power outages. You'll definitely want a way to get into your food storage cans. Try the
Swing-Away Crank-Turn Handle Can Opener
.
7. WaterProof Matches
: If you don't have
waterproof matches
, you can also store regular matches in a plastic container to keep them safe and dry.
8. Essential Kits and Medications
:
First-Aid Kit
,
Emergency Kit
, prescription medications.
9. Sanitation Supplies/Personal Hygiene items:
It's important to keep your hands clean during an emergency to prevent the spread of disease. If your hands are caked with dirt or other substances, hand sanitizers become ineffective. If your tap water isn't safe, wash your hands and bathe with boiled or disinfected water. Only bathe with clean, safe water in a water-related emergency like a hurricane. Wait for officials to tell you the water is clean and safe for bathing.
Fact: Poor hygiene and sanitation can spread disease, especially in a natural disaster. According to a John Hopkins Red Cross study, more people die from unsanitary conditions, rather than the natural disaster itself, in some cases. So make sure you have a way to get clean!
10. Light and Communication
: Make sure to have a battery-operated
radio
,
flashlight
, clock, or wind-up clock (include extra batteries); tune in to NOAA weather radio for constant updates on the storm and water conditions.
11. Extra
Clothes, Pillows, Blankets
: Stored in your emergency kit or a waterproof container.
12. Hurricane Shutters or Storm Panels
: Consider installing hurricane shutters or storm panels if you live in a hurricane-prone area. Hurricane shutters protect your windows and doors from wind and flying debris. There are commercial shutters you can buy, or you can also install your own using plywood. For a guide on picking and making shutters, check out this weather.com article.
Fact: During Hurricane Andrew, much of the damage "resulted from failure of windows and doors. These failures frequently lead to interior wall failure and sometimes roof failures." This damage could have been prevented if shutters were installed in most homes.
13. Entertainment items:
Cards, board games, toys, drawing pads
14. Flood Insurance, Home and Property Insurance:
Look into
flood insurance
, if you don't already have it, to cover damage in case of a storm. Also, check out your current insurance coverage to determine if hurricanes and other natural disasters are covered under your policy.
15. Evacuation/Communication plan:
Be sure to practice your plan and be familiar with it before a storm hits.
16. Plastic Sheeting/Tarps
: After a hurricane, you can use plastic sheeting or tarps to cover any holes or damage to your roof until it can be fixed. Make sure your tarps are in good condition; heavy winds can easily damage them.
Note:
Installing a tarp on your roof is dangerous, check out
these tips for safely installing a tarp
.Plastic sheeting with a bit of duct tape is also great for patching leaks.
17. Tools/Supplies for securing your home
—Make sure to have a drill with a screwdriver bit to secure hurricane shutters. Also, have roof and window repair tools, rope, leather gloves, shovel, head and foot bolts for doors, and hurricane straps or clips to help hold the roof and walls up.
Fact: A common myth about hurricane preparedness is that using duct tape to secure your windows will reduce shattering, but recently, experts from the National Hurricane Center have been de-bunking this myth. They suggest that taping your windows "can create larger and deadlier shards of glass when winds blow through a home," increasing the danger. Instead, look into buying or making your own storm shutters.
18. Insect Repellent:
This is a product that may be overlooked when packing our emergency supplies, but it's good to have, especially in a hurricane.
Fact: Heavy winds and sitting pools of water often attract mosquitos after a hurricane. Mosquitos arrive in the area after being blown off trees and shrubbery—and they're usually hungry, so make sure you have your insect repellent on hand.
19.
Child care and Pet care items:
Make sure to have food, wipes, clothing, and other items to take care of your children and pets, if needed.
20. Whistle and Flares
:
Do you know why you should have a whistle in your Hurricane emergency kit?
Fact: During hurricanes, whistles are excellent tools to help you signal for help. Whistles are more effective than yelling or shouting because they can signal for help well beyond the range of your voice and with a lot less effort, allowing you to conserve energy. Whistles are one of the most commonly listed items to include in a hurricane emergency kit by hurricane survivors.
For more tips on preparing for a hurricane, check out our downloadable/printable "
Before a Hurricane Checklist
."
Have you lived through a Hurricane? What Other Supplies would you add to this list?

Sources
Photo Courtesy of Weather.com National Weather Service Quote
http://www.nhc.noaa.gov/prepare/
http://www.nws.noaa.gov/om/hurricane/resources/Hurricane%20ENG.PDF
http://www.redcross.org/prepare/disaster/hurricane
http://www.nbcnews.com/id/9710472/ns/us_news-katrina_the_long_road_back/t/millions-begin-recovery-wilmas-aftermath/#.U7roY_ldXy0
New York Times article
(Solar Power in an emergency—ways to tap into it when the grid goes down) http://www.jhsph.edu/research/centers-and-institutes/center-for-refugee-and-disaster-response/publications_tools/publications/_CRDR_ICRC_Public_Health_Guide_Book/Forward.pdf
http://www.ready.gov/food
http://www.bt.cdc.gov/disasters/floods/sanitation.asp http://www.weather.com/life/safety/hurricane/article/hurricane-safety-shutters_2011-11-15
http://www.mnn.com/family/protection-safety/sponsor/6-tips-to-prepare-for-a-hurricane
http://www.forbes.com/sites/jeffmcmahon/2011/08/26/repelling-mosquitos-after-the-hurricane-deet-vs-dengue-fever/ http://foxnewsinsider.com/2011/08/25/hurricane-myths-fact-or-fiction
http://www.cbsnews.com/news/hurricane-experts-stop-taping-windows-for-storms/