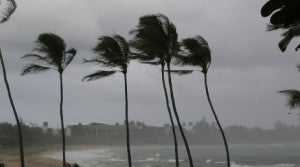 During my regular news trolling last week, I came across an AP headline that several of the big outlets had latched onto, titled "5 Things to Know About Hurricane Season." You can read the same article from
ABC News
, Yahoo news, or
The Washington Times
, depending on your preferred association. But no matter how you access it, the upshot seems to be that it's a year to breathe easy.
El Niño's
back, which, the article claims, means warmer weather and both fewer and less intense storms. This is great news, considering hurricane season officially began June 1
st
, and I would really rather work on my tan than stock up on emergency candles during all this beautiful weather. Except maybe not. The Weather Channel, acting in its official capacity as the smart kid that nobody likes, has put out its own "5 Things" list, which isn't, but could be subtitled, "Don't Get Too Comfortable Yet." In particular, the article points out how complicated and unpredictable a factor El Niño is (depending on geographical location, the warmer currents of El Niño can either lessen
or increase
the severity of storms), and reminds us that "below average" storm systems can still be devastating. For those of us who live in areas that are at all prone to hurricanes, this is not the time to get casual in our preparations. Fingers crossed that we don't have a repeat of 2004, but, as the Weather Channel put it, "Perhaps a big anniversary will remind Americans it's possible, and it could happen again." In case you missed the re-post a couple of months ago, our article,
"How to Prepare for a Hurricane"
includes a thorough list of downloadable resources and links to our
5-part Hurricane Preparedness mini-series.
What are your best tips for hurricane preparedness?
-Stacey Birk