Earthquakes—as well as other natural disasters—scare us because of their randomness. We never know when something might happen. And once a disaster strikes, along comes death and destruction. Despite the fear that comes with natural disasters, you shouldn't necessarily spend your time worrying about when the next earthquake might come about and end your life. In fact, you have a greater chance of dying by comet impact (1 in 20,000) or even from an accident at home (1 in 26,000).
According to Dartmouth
, the odds of dying in an earthquake in California (where those things are quite common) is 1 in 2,000,000. If you've ever entered a giveaway with 2 million entries, you quickly realize your chances of winning are not good. Likewise, your chances of surviving an earthquake are extremely high with those odds. That doesn't mean, however, that you shouldn't still be prepared. A little forethought can be the reason you make it through. Although there is a randomness factor as to when an earthquake will strike, you can still stack the deck in your favor. When the random event happens is moot; what matters is what you do to prepare for it. By minimizing the randomness, you're more in control, and better able to protect yourself and your family. Here are five things to do to beat Mother Nature at her own game.
Prepare Your Home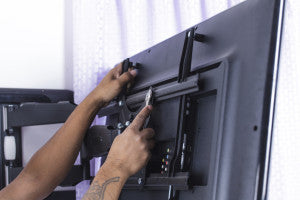 If you were to shake your entire house, what would fall down? Pictures on walls, bookshelves, and televisions are the first things that come to mind. Essentially, tall, heavy, and expensive objects
should be secured
, be it through putty (i.e. for vases or stand-up decorations) or wall mounts (i.e. for bookshelves or televisions). Move potential hazards away from your bed. This means if you sleep underneath a shelf, don't load it with heavy objects that could fall on you should an earthquake happen during the night. You can also secure your cupboards with safety latches (just like the ones you use to keep your toddlers out of the cutlery drawer), thus keeping the plates, cups, and other things housed up there from falling and injuring anyone underneath.
Drop, Cover, and Hold On!
[caption id="attachment_19241" align="aligncenter" width="650"]

Image courtesy of Shakeout.org[/caption] Don't try and run. Chances are you'll just be knocked off your feet by the shaking anyway. Instead,
drop to the ground
, take cover under something sturdy (like a desk or a table), and hold on until the shaking stops. If there is no convenient sturdy object to hide under, taking cover in an inside corner of a building is the next safest place to be. Drop down and cover your neck and head with your hands and arms. If you're inside, stay there! Don't run out. In a story in the
LA Times
, two women fleeing a building during the 2003 Paso Robles earthquake were killed when bricks fell down on them. Had they stayed inside, they would have been just fine. If you're in your bed, do not get out. Stay there, hold on, and cover your head with your pillow. Getting out of bed could put you at risk of both falling objects as well as broken glass and other debris on the floor.
Have Emergency Kits
Following a disaster, what might life be like without an emergency kit? Without one, you could be out of food, water, or supplies to help keep you warm at night with no power. First aid supplies are very useful, especially to patch up cuts, wounds, and other injuries sustained during the disaster. Once the earthquake stops, medical personnel will be focusing their time on the most critically injured, so if you're not on that list, you'll be fending for yourself for possibly days. Make sure you have an emergency kit that fits your needs. You can get a pre-assembled emergency kit, or make your own from items you get yourself. The pre-assembled kits should have water pouches (or other form of portable water), as well as food and gear to at least cover the basics. While the odds of surviving an earthquake is high, you can increase your chances even more by being prepared well in advance. Take time today to evaluate your emergency preparedness plan and supplies and make any changes and acquisitions you need to be ready for anything. May the odds be ever in your favor.