Getting tired of eating the same chocolate chip cookies all the time? Are you looking for new desserts to try? If you're looking for a way to spice up your dessert menu, you've come to the right place. You can make tasty bakery-style treats any time of year using food storage supplies. Check out these 4 Sweet Treats to make with (or for) your loved just using ingredients you have stored at home.
Peanut Butter Blossoms
If you're headed to a work or school party, these Peanut Butter Blossoms are sure to please a crowd. This recipe makes 48 cookies using our delicious Emergency Essentials Peanut Butter Powder. Click on the picture to get the recipe.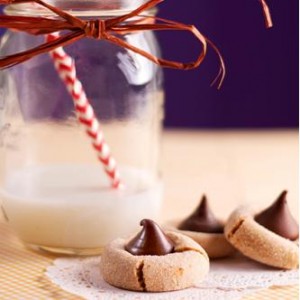 Strawberry-Banana-Peach Cobbler
Planning a romantic dinner at home? Whip up this Strawberry Banana Peach Cobbler for dessert and your significant other will be so impressed with your baking skills they'll love you forever. To make it even simpler, but no less elegant, you can use our Fruit Crisp and Cereal Combo to make your crisp topping quickly and easily. Click on the picture below to get the recipe.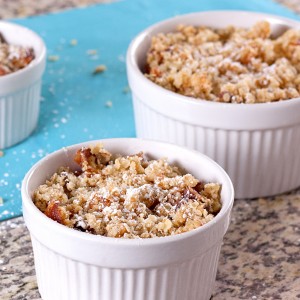 Banana Oat Crumb Cake
If you're looking for a dessert that's healthy... our Banana Oat Crumb Cake is a pretty good choice to help you meet your goals (I mean, it's got bananas and oats in it, right?). This delicious crumb cake had our employees asking for more and will have your loved ones doing the same. Click on the picture below to get the recipe.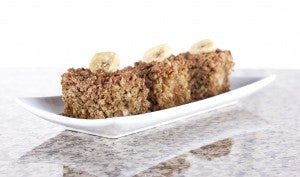 Food Storage Muddy Buddies
Any time of year is perfect for a chocolate gorge fest (well, at least that's what it is for me . . .) Take a seat on the couch, pop in a movie, and treat yourself to a great night with our food storage Muddy Buddies. Click on the picture to get the recipe.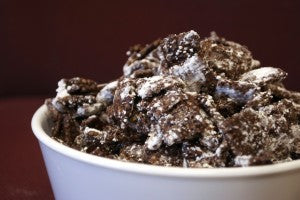 Bonus Treat!—Pick up a can of our Provident Pantry Brownie Mix and bake two "cakes": one in a square pan and the other in a circle shaped pan. After baked, cut the circle cake in half. Turn the square cake to look more like a diamond, and place the two circle halves on the two top edges, and voila! A heart-shaped brownie treat you can frost, sprinkle with powdered sugar, or devour straight from the pan.
Do you have a special treat you make from food storage? We would love to hear about it!