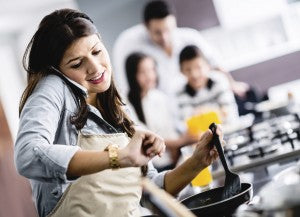 Our lives can sometimes get in the way of our food (which is a real shame, considering how good food is). Moms especially can have a dickens of a time getting everything done in a day – wrangling kids and school and soccer games, cleaning up, just keeping a family active, safe and on time, many while holding a job – and yet, more times than not, they manage to have a good, hot dinner on the table every night. How do they do it!? I'm sure there's magic involved, to be honest. In honor of such crazy-busy moms, I would like offer one of the best Mother's Day gifts around – more time. And that starts by spending less of it in the kitchen. So moms of the world…Here's my gift to you. Sara Elliott, one of the good people at How Stuff Works, came up with some
time-saving tips in the kitchen
, from which I borrow in order to help maximize your time in the kitchen, allowing you to spend more of it with with your adorable children. Or cat. Or to watch NASCAR… okay, let's leave MY mom out of this.
Step 1: Get Organized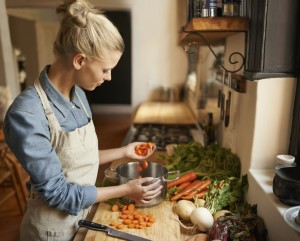 If you're not organized, now's the time to do it. By not having a game plan, you can waste precious minutes trying to figure out where your mixer is, which cupboard you keep the sugar in, or "Wait…Do I even
have
sugar!?" (unfortunately, that last one happens to me all the time). Also look at your counter tops. Are they cluttered? If so, de-clutter! Sara Elliott describes how quickly you can lose that precious counter space: "Appliance creep starts innocently enough with the addition of a toaster and then slowly grows to include the food processor, mini mixer, can opener, toaster oven, and on and on. Before long you're trying to cook in a postage stamp-sized space only large enough for an eggcup." Replace homes for those wandering appliances. Counter space is prime real estate, and it's all yours. Don't let that homeless toaster and blender tell you otherwise! Take it from someone who has about three feet of counter space (if that) – that stuff is a hot commodity! Make it yours. And, now that your counters are de-cluttered, fill them back up with all your ingredients, mixing bowls, and measuring cups! Having everything out before you need it will help you stay organized, help you remember what you need, and realize if you're missing something.
Step 2: Stock Up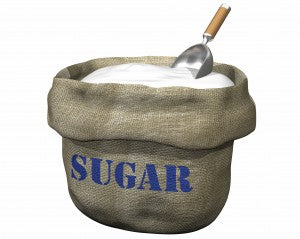 To refer back to my sugar example in the previous step, if you know you use an ingredient a lot, make sure you always have some on hand. After the fourth or fifth time of going to the store half-way through making cookies or banana bread (my two most favorite things to make), I have since wised up and now always have lots and lots of sugar and chocolate chips. In fact, every time I go shopping, I get an extra bag of chocolate chips – just in case. Sara believes that "if you have a regular inventory and rotate it efficiently, you'll be able to save time and the stress of last minute shopping." I wholeheartedly agree.
Step 3: Pre-Prepared Meals
[caption id="attachment_18016" align="alignright" width="150"]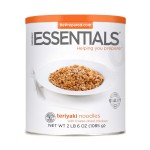 Freeze-Dried Chicken Teriyaki[/caption] Sometimes you just don't have time to make food from scratch, and that's OK. That's why we have microwaves! Some days it's all you can do to open the freezer, nuke a meal, and eat your no-longer frozen dinner. Some of them are even pretty decent. But have you tasted freeze-dried food? That stuff is
good
! Don't just take my word for it. Sara agrees! She says that "updated preservation methods like
freeze drying
have made prepackaged meals something to look forward to." See? Freeze-dried food is the fast-food of the future. The best part is, all [caption id="attachment_18017" align="alignright" width="150"]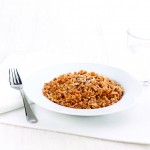 Freeze-Dried Chicken Teriyaki Prepared[/caption] you do is add hot water, wait about 10 minutes, and
voila! Bon appétit!
There are all kinds of freeze-dried meals out there, from Mountain House to our own Emergency Essentials line of food. Think about it. You want
Beef Stroganoff
without all the work? Done. What about
Chicken Teriyaki
? Also done. Oh, and let's not forget about dessert. How about some
Raspberry Crumble
? Triple done! There are so many freeze-dried options that will save you tons of time, and also taste great. Another perk is that our freeze-dried food will store for up to 25 years, so you can save it until you really need it!
Step 4: Cook in Bulk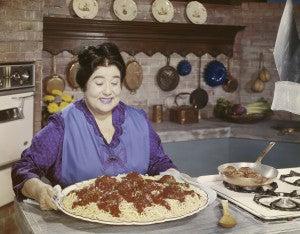 "If you want to save money as well as time in the kitchen, try consolidating your efforts by cooking large batches of food and freezing what you don't use right away." By doubling (or tripling) your recipe, you can take the same amount of time creating one delicious dish as it takes to make a huge batch of it. And, by freezing the leftovers (assuming you don't have any teenaged boys and actually have leftovers), you will already have a good meal prepared for another day! Bonus! So there you have it, four wonderful tips to save you time in the kitchen. Now with all that extra time you have, why don't you sit down and treat yourself to a thrilling episode of
Sherlock
. Or take a nap. You deserve it!
Do you have other tips for saving time in the kitchen? Let us know so we can be even more time efficient!