When Hurricane Katrina hit, nobody was ready for its destructiveness. Almost 10 million people were affected, more than a million evacuated, 1,800 were killed, and damage was estimated at $151 billion,
according to the U.S. Census Bureau
. Since the monster hurricane season of 2005, when Katrina and two other major hurricanes hit the United States, we have not seen one major hurricane. Even Hurricane Sandy, which did so much damage to the northeast in 2012, was only a category 1 hurricane, the weakest type. Does anyone think the lull will last? In addition to the emergency preparedness things you already do, here are a few additional preparations that Katrina taught are especially important in a hurricane-prone area (here's looking at you, Florida).
Keep a full gas tank, or a few.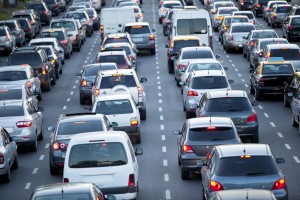 When Sandy Whann, president of a New Orleans baking company, closed his plant ahead of Katrina and left New Orleans for Baton Rouge,
he was surprised by the gridlock
. A trip that normally took two hours took seven. Imagine if he'd run out of gas.
The Federal Emergency Management Agency recommends
you keep your car's gas tank full if an evacuation is likely for your area and at least half full all the time. Even if you don't live in a hurricane-prone area, be prepared for fuel shortages after a major hurricane. The Gulf Coast is a major center for processing oil. After Katrina, producers had to deal with broken equipment and devastated transportation infrastructure.
The U.S. Environmental Protection Agency
, in response, waived its requirement to use summer gasoline in all 50 states so there'd be enough fuel.
Keep the sanitizers handy.
After a hurricane, bleach and hand sanitizer are your best friends. Flood water is a gumbo of debris, chemicals, dead animals, waste from overflowing drains and untreated sewage. About 1,000 evacuees in Texas and Mississippi came down with diarrhea and vomiting in the weeks after Katrina
, according to the U.S. Centers for Disease Control and Prevention
. The CDC reported many other illnesses. The CDC recommends you use hand sanitizer every time you contact flood water. Also sanitize any object that has touched flood water.
That's where bleach is your friend
. One cup to every five gallons of water is sufficient to sanitize most things like undamaged food and water containers, toys and nonporous surfaces. Wood items and bottle nipples and pacifiers should be thrown out along with any food that may have been contaminated.
Load up the fridge and freezer – with ice.
The Food and Drug Administration says
throw away any perishable food left at more than 40 degrees for more than two hours. An unopened fridge will keep food cold for only about four hours. A half-full, unopened freezer will keep food cold for about 24 hours. However, food in a packed, unopened freezer will stay cold for twice that long. So freeze water bottles and ice cubes to pack around freezer food. Before an emergency, Replace out where to buy dry ice. Fifty pounds will keep a fully stocked fridge cold for two days. During a power outage, keep the fridge and freezer closed.
Be prepared to wait more than three days.
[caption id="attachment_18983" align="alignright" width="300"]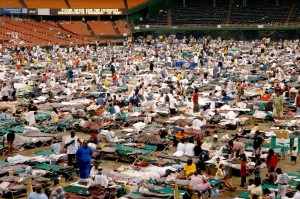 via Texas Tribune[/caption] When the Superdome general manager agreed to open the building as an emergency shelter, it was originally intended to hold fewer than 1,000 patients with special medical needs for about two days,
according to a story in For the Win
, a subsidiary of
USA Today
. It eventually held 30,000 people for almost a week and became a symbol of devastation. Debris, water, and destroyed transportation corridors kept food, medical supplies, and fuel from getting to New Orleans. Phone service, including 911, was almost nonexistent. "When roads are flooded, washed out, blocked by trees and power lines, etc., it takes a while to get them back in order. That means you need to be prepared to get by for at least a few days
—
and, much better, at least a couple of weeks
—
on your own," wrote Glenn Reynolds, an editorial contributor to
USA Today
, in a piece about Katrina lessons.
Have an emergency kit with contact information for each family member.
According to Save the Children
, more than 5,000 children were reported missing from their families after Katrina, some for months. FEMA recommends each family member carry a contact card with personal and family information.
Save the Children has a free, printable emergency contact card
. It includes a child's name, age, home address and phone number, medical information and emergency contacts. The card fits in a child's backpack or wallet. Teach children how to contact you and where to meet if you get separated. By the way, Florida, hope you were ready for Tropical Storm Erika. Be prepared for flooding as rain is forecast to continue. Be safe. - Melissa