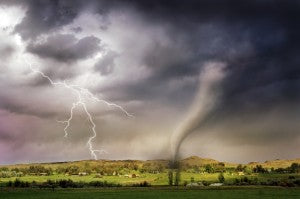 When it comes to knowing the facts and fiction about tornado safety, some of us may be relying on movies like
Twister
as our reference—especially if we don't live in "Tornado Alley." But what if you come face-to-face with a cyclone while traveling or moving to a new area? Would you know how to keep yourself safe? As you prepare, it's important to recognize and acknowledge the myths associated with tornado safety and to re-educate yourself to properly prepare. Here are 5 common myths about Tornado Safety you'll want to know (and not fall for!) if a twister ever blows through your town.
Myth #1: Tornadoes only occur in Tornado Alley.
While it's true that the central and Midwestern areas of the United States, known as Tornado Alley, do see a greater number of tornadoes, there's no predicting where they can happen next. In fact, the experts at Weather.com suggest, "tornadoes can occur at any time of the year and in any part of the world." And a recent accuweather.com article suggests there may be more than one tornado alley in the United States. As you can see in the chart below, a majority of tornadoes take place in Tornado Alley, but tornadoes have also occurred in many other parts of the country as well.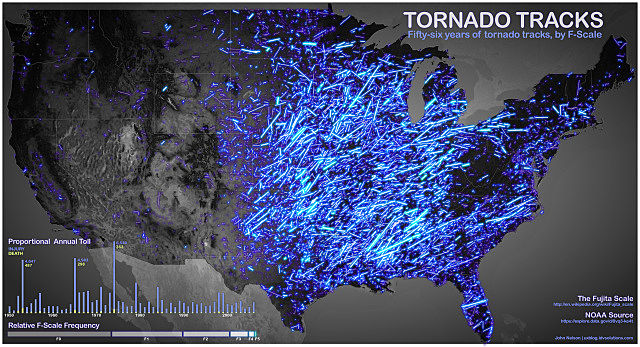 The National Weather Service (NWS) Storm Prediction Center (SPC) routinely collects reports of severe weather and compiles them with a Graphic Information System (GIS). This file contains track information regarding known tornados during the period 1950 to 2006.
According to an
Associated Press
report, a handful of tornadoes touched down in Northern California in March 2014. This area of the country, typically known for earthquakes and wildfires, experienced a tornado that damaged 20 homes. Many residents were not prepared for tornadoes, but they learned to prepare for the unexpected. This incident is important to keep in mind when preparing your own emergency supplies or when preparing to travel. Collect food, light, water, first aid, and communication supplies now so you can be ready if a storm hits.
Myth #2: Tornadoes are unpredictable and therefore there is no way to prepare for them.
Tornadoes
do
move unpredictably, but that doesn't mean there's no way to prepare. Meteorologists and networks like the
NOAA
or Weather.com use radars and satellites to monitor temperature and wind patterns, and can give frequent updates for your area and early warnings to help you get to safety in time. The
Voyager Pro Radio
also has a weather alert feature that automatically notifies you when there are severe weather alert warnings in your area. You can also become aware of the warning signs of an approaching tornado:
green sky
hail
heavy rain followed by an eerie calm or drastic wind shift
churning debris
the sound of continuous thundering
Myth #3: Sturdier buildings will protect me from the tornado.
It feels better to be behind brick than in an open mobile park, but when outside items such as poles or cars become projectiles, anything is possible. As part of your emergency preparations, remember to choose a shelter or safe destination ahead of time so you can execute your plan without delay. If for some reason, something happens to your pre-determined shelter or you're nowhere near it, the safest places are rooms without windows in the middle of the house, like a bathroom or closet. During a tornado in Joplin, MO, employees and customers at a local 7-11 took shelter in a cooler for safety because it was the only place in the building without windows. Check out the video below that illustrates the power of a tornado and how the cooler kept these people safe. The first video is the first-person view as the tornado heads for their location. It's dark, but the audio tells the haunting story very well. The second video...well, it's a day-time look at the actual location where they hid. And it'll blow your mind.
And now here's a video where you can actually see where they were...
Watching the first video is scary enough, but once I saw the aftermath of where they survived...it's incredible. And terrifying. Absolutely terrifying to think how close that tornado came to them. Now, if you're driving when a tornado hits, get out of the car and lie flat in the nearest ditch (away from other cars and trees) or go to the closest building you can Replace to take shelter. Basements are also safe places to shelter in, but make sure there aren't heavy appliances on the floor above you. Once you're in the basement, get under a makeshift shelter like a workbench or mattress for added protection.
Myth #4: I can outrun a tornado in my car.
This may be true for trained meteorologists, so there is some debate over the issue. Tornadoes can shift quickly, and can move at about 70 miles per hour, so if there is no traffic and a straight road out of town, you may opt to take it instead of abandoning your car. If you decide it's best to abandon your vehicle, be sure to leave it somewhere it won't block emergency vehicles. Then Replace low ground—possibly a ditch. If there are flash flood possibilities, avoid overpasses; they can turn into wind funnels.
Myth #5: If a tornado is heading your way, you should open all your windows.
People have sometimes thought this equalizes pressure, but it really just causes you to spend your time on something other than getting to safety. Because of flying debris and wind velocity, there is no real way to protect your property, so your physical safety should be the first priority. Ultimately, Replaceing the right shelter, having the right tools, and making a plan beforehand will be the best way to prepare for the unpredictable. For more information on how to protect yourself during a tornado, check out our article, "
Preparing for a Tornado
."
What are your tips for staying safe during a tornado?
Sources:
http://www.popularmechanics.com/outdoors/survival/tips/5-myths-about-tornado-safety-16793545?click=pm_latest
http://www.ncdc.noaa.gov/oa/climate/severeweather/tornadosafety.html http://www.accuweather.com/en/weather-news/five-tornado-safety-myths/25676569
http://www.spc.noaa.gov/faq/tornado/safety.html
http://www.mnn.com/family/protection-safety/stories/tornado-warning-signs
http://www.technologyreview.com/news/424106/the-limits-of-tornado-predictions/
http://www.weather.com/encyclopedia/tornado/forecast.html "Tornado Alley chart" courtesy of accuweater.com http://www.accuweather.com/en/weather-news/is-there-more-than-one-tornado/25431665