Flooding can be a scary, dangerous disaster, and if not dealt with swiftly and properly after the fact, you could be in for even more lingering effects.
It is recommended
to bring your home back into good repair as soon as you can, so as to protect your health (such as from mold) as well as preventing further damage. But how do you do that? Great question. Let's dive in (pun intended) and learn more about what you should do following a flood. Floodsmart.gov has many great suggestions, some of which we'll be looking at in this article.
Take Pictures
While you will probably want to share your experience on social media, the pictures you take of the damages can - and should - be
used by your insurance company
when processing your claims. So before you start cleaning out and clearing up, make sure you photograph the mess your home is in, or else risk losing out on some coverage.
Stay Healthy
Floodsmart.gov recommends boiling all water for drinking and cooking until local authorities deem your water supply is safe. Because flood water can bring in a host of contaminates (including sewage, muck, and other things you don't want in your system), you'll want to make sure you have a way to treat your water before drinking it. Otherwise, be prepared to get a lot of bottled water from the store. Since flood water can be super nasty, it's best to wear rubber boots to keep the water away from your skin. Likewise, wear gloves and other protective clothing while working to clear your house of leftover water and debris.
Keep Power Off
If you're wading around in your flooded home, the last thing you want is to be zapped by a live current. Turn your power off and you'll be just fine.
Remove Wet Contents Immediately
Mold grows quickly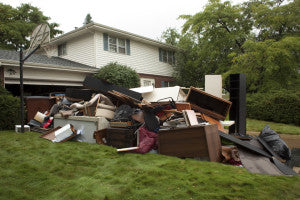 , so make sure you get rid of all your wet belongings to avoid as much as possible. Washing walls and floor will also help keep mold out. Unfortunately, in order to clean floors, you might have to tear it out and replace it. But that's better than leaving a flooded floor inside and having mold grow underneath it, which will cause health problems later on.
File an Insurance Claim
This goes without saying, but you need to have a flood insurance policy before you can actually file a claim. And remember, that policy needs to be purchased at least 30 days before a flood, or else the claim is void.
Remove Water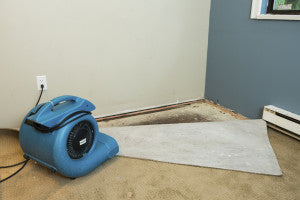 Unless you're happy with your new built-in swimming pool, it's time to remove the water from your home. Buckets are one way to bail out your home, but a more effective way is to use a sump pump. You can Replace these at most home supply stores. A wet vac is also necessary to dry up that water, which will also help reduce mold growth.
Avoid Flooded Water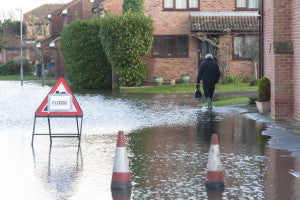 Lastly, avoid flood water in streets, yards, or anywhere else. Dangerous debris can harm you. If you get cut while standing in that water the dirty, deadly contaminants and organisms can creep in to your wound and infect it, compromising your health. Flood waters may also continue to have a strong current, and even shallow water can sweep you off your feet. So be very careful around flood waters. Floods are the most common disaster in the United States and can be very dangerous and devastating. Make sure you know what to do following a flood before it happens, so when it does come you can go right to work.