Iowa's statewide tornado drill, held on March 24, was supposed to be held the day before. It was postponed because of bad weather. Natural disasters don't exactly conform to our timetables. Yet many have a seasonal ebb and flow. Although tornadoes occur year-round, most take place in the spring and early summer – hence,
tornado season
. Floods are common in March and April because of heavy rain and melting snow.
Hurricane season
peaks in August and September. This seasonal nature of wild weather could explain why 33 states and U.S. territories held
severe weather awareness events
in March. Another 21 events are planned for April. Events varied from state to state. Last week, for example, California sponsored Tsunami Preparedness Week, while Colorado nailed some extremes with Flood Safety and Wildfire Preparedness Week. Maryland's Severe Storms Awareness Week highlighted a different hazard every day. The point of all this is, if you haven't started preparing for a natural disaster, now's a good time. One goal of Maryland's awareness week was to highlight the difference between a watch and a warning, so people can act appropriately.
A watch means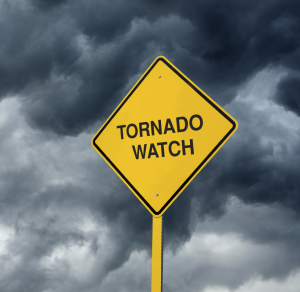 that atmospheric conditions are right for severe weather to develop, but it hasn't yet. Severe weather watches tend to last for longer time periods. A warning means severe weather is imminent or occurring, so take appropriate action now. The terminology is the same for many types of severe weather: tornadoes, flooding, severe thunderstorms, winter storms and hurricanes. Sometimes the National Weather Service issues weather advisories. These can refer to specific weather hazards within a storm, like a high wind advisory. They can also refer to severe weather that is imminent or occurring but won't have quite as adverse an impact.
A flood advisory
, for example, is for flooding that shouldn't really affect life or property. A month ago, eight tornadoes touched down in Virginia, killing five people. Virginia's governor referenced that disaster in a proclamation calling March 22 Tornado Preparedness Day. "All Virginians should know where to seek shelter during a tornado, whether at home, at work, at school, or elsewhere," the proclamation said. Part of preparing for a disaster is knowing how to respond appropriately. For example,
before a tornado
, pick the safest place to shelter in a building. A basement is best, but if that's not available, go to the center of a small, interior room on a building's lowest floor. Either way, get under something and cover your head and neck. This advice doesn't apply to mobile homes or buildings. From those, go to the nearest shelter.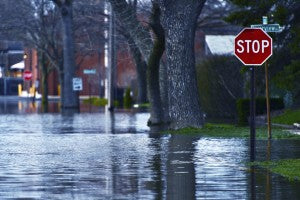 Evacuating if directed is also the best course of action
during a flood
. But be careful. Flooding is the deadliest weather hazard, mostly because people try to drive or walk across flooded roads and bridges. Be sure to have alternate routes to get to a shelter in case the main route is flooded. Once you've got a plan, practicing it is equally important. Employees of the Clear Lake, Iowa, Chamber of Commerce participated in this year's delayed Iowa tornado drill. The Chamber's Director of Tourism, Libbey Patton, said in a TV news story that chamber members had inclement weather plans for both office and events. "And we have had to use it a few years ago for [a weekly event] just to get everyone home and off the roads," she said.