We all know that
Mountain House
food
can help you to survive in an emergency, but did you know that an empty
Mountain House
pouch
can help as well?
Mountain House created a series illustrating various ways to re-use a Mountain House Pouch. Here's what they came up with.
Bet you didn't know you could use a Mountain House pouch to warm up your sleeping bag . . . Simply fill up an empty (clean) pouch with hot water and place by your feet inside your sleeping bag.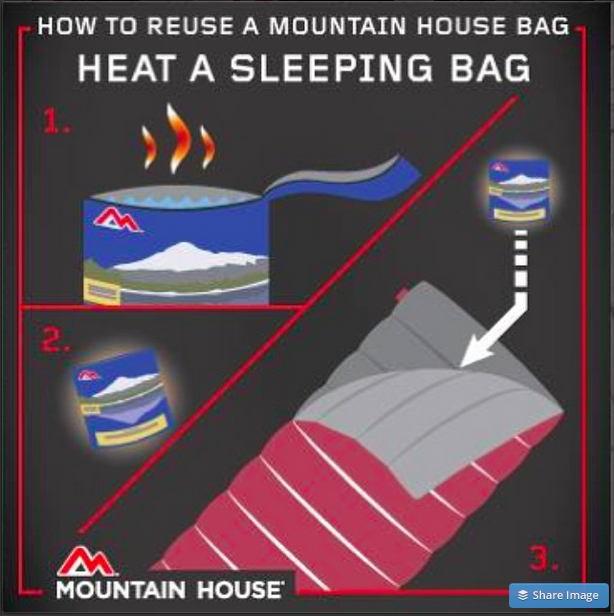 How about using an empty pouch to wash your utensils while camping? This is a great way to conserve water and to get your utensils clean without them getting lost. Simply put soapy water in, close, and shake—no scrubbing required! You could even use the water to clean other small items.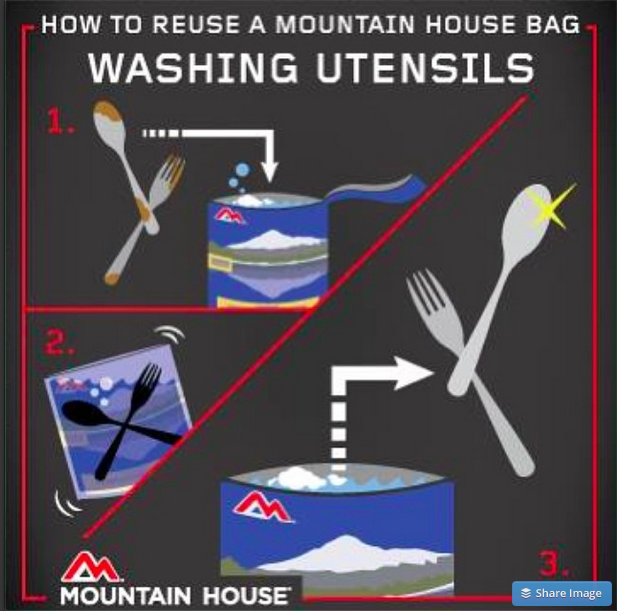 Use a clean Mountain House Pouch as a Waterproof container for your keys, cell phone, and other items you don't want to get wet while exploring a lake or going white water rafting.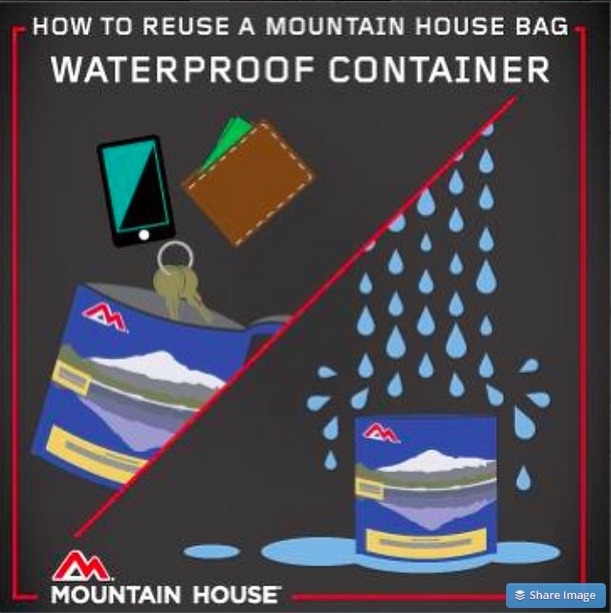 Inspired by Mountain House's idea, we've come up with five more ways to re-use a Mountain House pouch in an emergency:
If you're lost in the wild and need a container to filter water into, use your empty Mountain House pouch as a container to drink from.
You can carry extra water for cooking and cleaning in Mountain House pouches.
Use a clean Mountain House pouch as a waterproof mini emergency kit (similar to an SOL origin survival pack) to carry with you in your day pack.
Searching for wild edibles, but don't have a basket or container to carry them back to camp? You can use a Mountain House pouch to collect edible plants and flowers. For plants that need water to stay fresh before cooking, you can add a little water into the pouch.
Lost in the woods and need a way to signal for help? Open up your Mountain House pouch and use the silver lining inside to reflect the sun similar to a signaling mirror.
Have you ever used a Mountain House pouch or another unconventional tool to help you during a camping trip or emergency?
We'd love to hear about your experience! Photos courtesy of Mountain House Instagram