Quality, innovation, and value is what you've come to expect from Emergency Essentials, which is why we'd like to introduce you to a
new
line of knives and
tools that share our same standards from Columbia River Knife & Tool® (CRKT). These are no ordinary knives and tools. CRKT® products are created by world-renowned designers who took century-old designs and brought them into the 21
st
century with modern technology and killer design (no pun intended). Tested in the field by their experts and ours, these tools make great additions to your survival gear and camping supplies. And with this Special Purchase, you'll get all the quality you need and the value you expect from Emergency Essentials. Check out these select knives and tools and the
CRKT®
designers who made them. Or
click here
to shop now.
Kangee T-Hawk designed by Ryan Johnson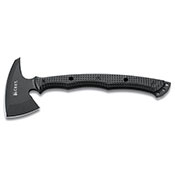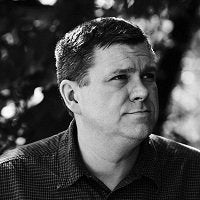 With 27 years of experience, Ryan Johnson "has spent the last decade applying modern engineering to centuries-old tool and weapon concepts." His work has redefined the role of tomahawks in Law Enforcement and Military applications, as well as playing a vital role in the special operations community. Ryan is currently president and primary designer at RMJ Tactical, LLC, and lives in Chattanooga, Tennessee with his wife and three daughters. One of Ryan's designs is the Kangee™ T-Hawk. To learn more about Ryan, check out
CRKT's bio
.
Lil Guppie designed by Launce Barber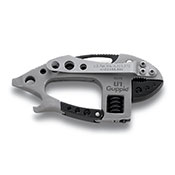 Launce Barber designs new products using what he considers the most fundamental tool everybody shares—our creative minds. With a mindset like that, he continually works on improving designs with new solutions to old problems, even after the product has gone to the shelf. Launce Replaces it important to partner with leaders in the industry who share his same long-term vision. Together, he and Tom Stokes—his long-term engineering and design partner—have created a variety of products which have won numerous awards such as Best in Show (SHOT Show 2003), Most Innovative Import Design of the Year (Blade Magazine 2003), and more. Together, they are responsible for the design of the Lil Guppie. To learn more about Launce, check out
CRKT's bio
.
Elishewitz Tao Pen designed by Allen Elishewitz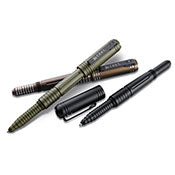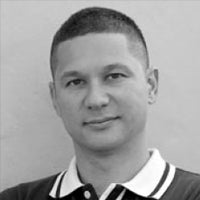 Allen Elishewitz's versatile background as a martial arts expert, Recon Marine, and classical artist has led him to create innovative knife models, as well as luxurious pens and watches. This world-renowned custom knife maker's work is collected by heads of state, royal families, members of elite Special Forces units, and other notable groups. Over the years, he has received numerous awards for his work. He works from his studio in Canyon Lake, Texas and is the inventor of the CRKT® Anubis, Pharaoh, Montu, and Horus folders, and, of course, the Elishewitz Tao Pen. To learn more about Allen, check out
CRKT's bio
.
Onion Skinner & Onion Shenanigan designed by Ken Onion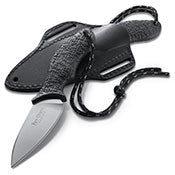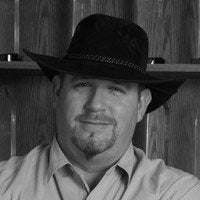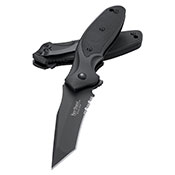 Custom knife maker Ken Onion first learned about the custom knife industry in 1989 after spending his childhood fervently collecting any knives he could Replace. He designed his first knife in 1991 after begging a local knife maker to teach him how—and he's been designing ever since. Ken is a designer, inventor, and member of the Blade Magazine Hall of Fame. He designed CRKT®'s Onion Skinner and Onion Shenanigan. To learn more about Ken, check out
CRKT's bio
.
M16-14 Titanium and M21 Carson Folder designed by Kit Carson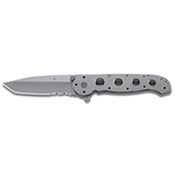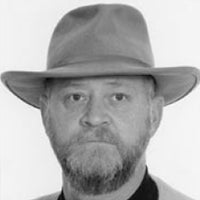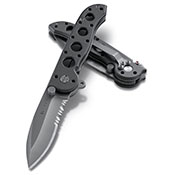 Kit Carson has made knives for over 30 years. His background in hunting and fishing and his time spent around the world in the Army as a professional soldier have influenced his work as a knife designer. Kit concentrates his work on building solid, functional knives rather than knives that simply follow a fad. Kit has been a full-time knife maker since 1993 and has designed the M16-14 Titanium and the M21 Carson Folder. To learn more about Kit, check out
CRKT's bio
.
Ultima 5" designed by Michael and Balthazar Martinez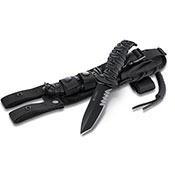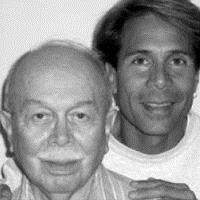 Michael Martinez and his father, Baltazar E. Martinez, have invented a variety of products over the years, including the redesign of the fixed blade to provide more comfort and control with the patent-pending Ultima. Michael is a former student of R.C. Gorman and specializes in large-scale bronze casting. This sculptor, martial artist, and active club boxer has spent time working privately and in corporate collections internationally, and is the president of Group Design, Inc., along with other design firms and organizations. For over 30 years, Baltazar worked for the defense department as a mechanical engineer on a classified nuclear system design. Together, the Martinez' have created the Ultima 5"- Black Blade with a Veff Combo Edge. To learn more about Michael and Baltazar, check out
CRKT's bio
. No matter which knife you choose to use in your adventuring, CRKT® can help make the most out of your experience. Which of these knives seems like the best fit for you? -Kim