To celebrate the diversity of our amazing country, we're highlighting some traditional recipes from each region of the United States. The best part is many of these recipes can be adapted to fit your food storage needs. As we "tour" the country, you'll learn where some of America's favorite dishes originated and why they're special to each region. Click on the pictures below to Replace recipes for each dish, and then add them to your food storage recipe collection.
New England
Enriched by the influx of Native Americans, as well as Irish and Italian immigrants, the New England area has introduced America to foods like potatoes, chowder, pork, cabbage, pasta, sausage, baked beans, and flavorful sauces from Italy. Did you know? New England cuisine also gave us tasty treats like apple pie, cranberry sauce, and blueberry muffins.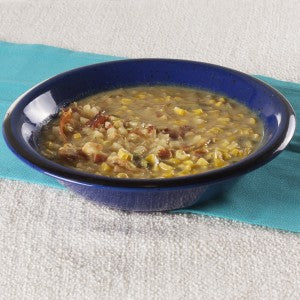 New England Corn and Potato Chowder
The South
Known for its soul food, seafood, and pork dishes, the South has introduced the taste of Spain and the British isles to the US. Some southern favorites include cornbread, ham, bacon, pit-barbecued pork, deep-fried meats and vegetables, hushpuppies, collard greens, and black-eyed peas. But don't forget about dessert: sweet potato pie, banana pudding, and red velvet cake are all southern favorites. So, kick back with a bowl of cracklins (deep-fried pork skins) and a tall glass of lemonade or sweet tea and check out these delicious southern treats.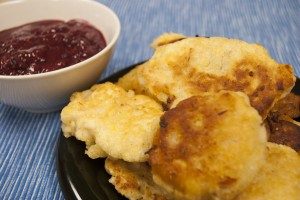 Chicken Hushpuppies with Blackberry Mustard
More Southern Recipes to try:
Easy 'Nana' Pudding
Fried Green Tomatoes
Cajun and Creole-Louisiana
Although Louisiana is technically considered "the South," the cuisine and culture of rural southern Louisiana and the city of New Orleans are so distinct they deserve a section of their own. So, have you ever wondered what the difference between Creole and Cajun food is?
Creole
cuisine refers to a blend of French, Spanish, Portuguese, Italian, Native American, Canary Island, and African influences on food available to the early settlers in the area.
Cajun
food features what is called the "culinary holy trinity" of onions, bell peppers, and celery, included in most savory dishes. It emphasizes one-pot meals such as Jambalaya (influenced by Spanish paella), Dirty Rice, and Crawfish Etouffée. As they say in New Orleans,
Bon appétit, e laissez les bons temps rouler!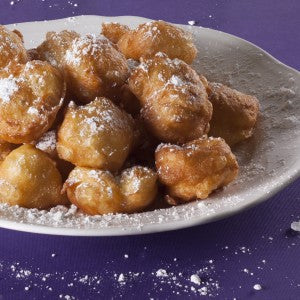 Beignets
More Recipes from Louisiana to try:
Shrimp Etouffee
Creamy Cajun Chicken
Midwest: America's Heartland
The central heartland of America, also known as the Midwest or the "nation's breadbasket," consists of North and South Dakota, Nebraska, Kansas, Minnesota, Wisconsin, Iowa, Missouri, Illinois, Indiana, Michigan, and Ohio. Often, when we think of the Midwest, images of rolling hills, farms, and fruit and grain fields come to mind. Did you know that many of America's favorite foods originated in the Midwest? Hot dogs, hamburgers, corn dogs, ice cream cones, pretzels, Reuben sandwiches, and our favorite dairy products (cheese!) were all first made in America's Heartland. Aside from the American favorites we enjoy from this region, the Midwest also has a strong German, Polish, Hungarian, and Scandinavian influence, bringing us foods like sauerkraut, Cornish pasties, bratwurst, goulash, and rye bread.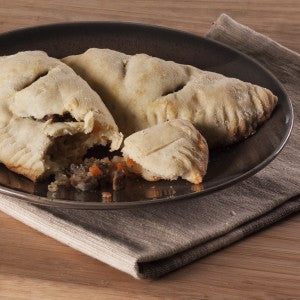 Cornish Pasties from America's Heartland
More recipes from the Heartland to try:
Chicken Paprikash (Hungarian)
Lefse (Norwegian Flatbread)
The Southwest
The rustic cooking of Texas, New Mexico, Colorado, Arizona, Utah, Nevada, and southern California is a combination of Mexican, American cowboy, and Native American foods combined with the domesticated beef and pork grown in Texas. Tex-Mex cuisine, a type of food combining Mexican and cowboy dishes, thrives in this area. "Fresh-Mex" cuisine, Chimichangas, Nachos, Fajijitas, and Chili Con Queso and several variations of Chili were also developed in this region. In fact, the spicy meat and/or bean stew we call Chili originated in Texas. Other variations include casseroles like Chicken-Green Chili Enchilada casserole and Tamale pie. Tortilla soup, which originated in the Southwest, has also become a popular favorite in restaurants and homes across the country.
Todos son deliciosos!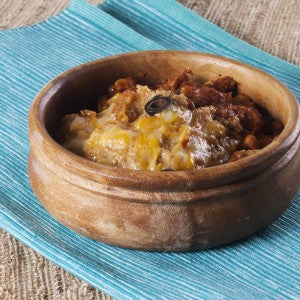 Tamale Pie
More Southwestern Recipes to try:
Authentic San Antonio Tex-Mex Chili
Mexican Rice (with tomatoes)
The Northwest
For our purposes, the Northwestern United States includes northern California (San Francisco and farther north), Washington, Oregon, Alaska, Idaho, and parts of Montana. As with all regions, the origin of those who settled there, combined with the cooking of the Native Americans and the available natural foods all contributed to the cuisine. The northern forests abound with game and the waters teem with fish and seafood. This region brings us meals like elk steak, venison sloppy joes, and lamb stew. In the waters, Salmon is king among the fish of the Northwest. Scallops, mussels, shrimp, and clams are popular favorites, as well. In addition to the meat and game, apples, peaches, berries, apricots, cherries, and sweet onions grow in abundance in this region.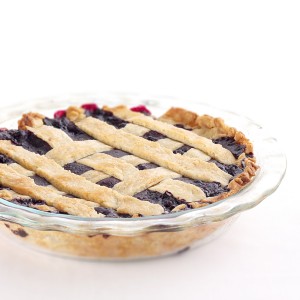 Mixed Berry Pie
The California Coast
California—especially Southern California—has developed a cuisine so unique that it qualifies for a discussion of its own in American cookery. Blessed with a climate that produces nuts, fruits, vegetables, and a coastline full of fresh seafood, California cooks emphasize using local produce and seafood in season. They prefer to keep it light and healthy, quickly cooked, and combined in unusual ways. However, the food in this area also has influences from Mexican and Southwestern cooking. "Fusion cooking" originates here, combining flavors and foods from different ethnic traditions in new ways. An example would be a combination of Chinese or Thai ingredients topping a pizza. Check out our recipes from the California Coast.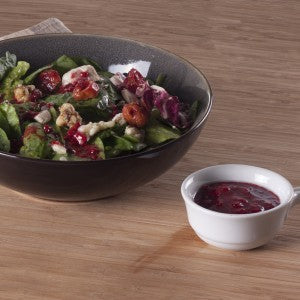 Cherry Walnut Salad with Raspberry Vinaigrette
What's your favorite state or regional recipe?
-Angela and Sharon