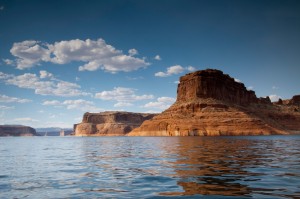 We've talked a lot this year about the destructive drought choking the western US. And while California gets most of the attention (check out UNL's drought monitor and their frighteningly visual perspective on California's situation), other states are suffering, as well. In fact, the drop in a single reservoir is affecting residents of Arizona, Colorado, New Mexico, Nevada, Wyoming, Utah—
and
California! This headline from the
Daily Mail
sums up the dangerous situation:
"Satellite images reveal mud-choked Lake Powell is LESS than half full and has hit a record low as the Western drought continues to strain major reservoirs"
The article, which features a chilling image gallery of the barely recognizable vacation spot, reports that Lake Powell currently sits at 42% of its capacity, with experts estimating that this year's snowmelt will only bring it up to about 51%. And it's not just bad news for boaters. The man-made reservoir serves as a source of drinking water for 20 million people living across the west, and the Glen Canyon dam that regulates the reservoir provides hydroelectric power to the area. While forecasters predict a cool, wet "El Niño" year for 2014, Eric Holthaus over at Slate.com explains why that won't be enough to recover from this decade-plus long dry spell in his article,
"What Does El Niño Mean For Me?"
. With no end in sight, then, how can we…er…weather this storm? For ideas on ways to prepare against the effects of severe drought, check out these helpful posts:
And for a recap of this year's drought and its unexpected effects, read here:
What are you doing differently this year because of the drought?
-Stacey