Hey, hey, hey! April is shaping up to be a great month for sales at Emergency Essentials. Here's what's on for the
April Group Specials
. Get at least ten 8-packs of Utility Flame Gel Packets and you'll only pay $10.00 for each 8-pack. That's 28% off regular price. The Utility Flame Gel is an eco-friendly, nontoxic fire-starting gel that doesn't produce smoke or odor. Its only byproducts are water, sand, and carbon dioxide. It also doesn't evaporate, freeze, or melt—
and
it's water soluble. All you have to do is tear open the package, squeeze out the gel and light it! Pretty darn cool, eh?
Hydropacks are still on a GREAT sale of 50% off. If you didn't pick any up last month, get them now. They're great for trips in the outback when you don't want to, or can't, pack a lot of water. But at least 5 10-packs to get them for $15.00 a pack. Instant White Rice, packed for long-term storage, is on sale for $8.00 per can when you buy 12 or more. This is a just-add-water product; it's ready to eat in just 5 minutes. 48 ounces of instant rice for $8.00? I don't need more convincing.
#10 cans of Tomato Powder
are part of the group specials. This stuff is so versatile that I'm calling it a
must
-have item for food storage. I've used it in meat dishes, soups, casseroles, dips, sauces … heck, you could sprinkle it on popcorn if you wanted. Each can has a net weight of 68 ounces – that's a lot of tomato powder for $16.00! It's 30% off regular price which seems like a good deal to me. Get yours now – you won't be sorry!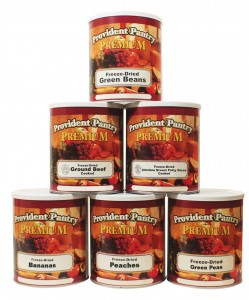 Emergency Essentials has a new combo out. We've put together meat, fruit, and vegetables to give you a well-rounded supplement to your food supply. Most of us have grains in our food storage. That's a great foundation, but I sure wouldn't want to live off bread alone. This
Meat, Fruit, and Vegetable Combo
lets you expand the variety of meals you can make when relying on food storage. In this combo you'll get beef, chicken, bananas, peaches, green beans, and peas. Sounds like an odd combination, but think about the versatility this combo offers. Suddenly your oatmeal, rice, and wheat got more interesting to eat! Buy three or more combos at $120 each and you'll save over $50 per combo! Need more information on how the group program works? Check out our
Group Program page
for all the details.