During the Super Bowl, water conservation efforts in Macomb County, Mich., kept crappers from coming a cropper. (OR helped a broken sewer pipe avoid a royal dump. OR prevented a royal flush that could have further damaged a broken sewer pipe and sinkhole.) [caption id="attachment_21507" align="alignright" width="300"]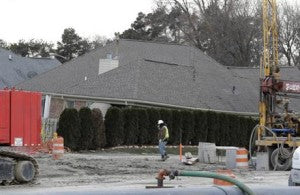 Good news: flushing toilets didn't make the sinkhole worse - via AP[/caption] On February 2, the county public works chief warned that halftime flushing during the Super Bowl could overwhelm a broken 11-foot-wide sewer pipe and send sewage into neighborhood basements. The broken line had already created a 250-foot by 100-foot sinkhole that
ate three homes
. But she said on February 6 that actions like people flushing less (when they did, would that be a royal flush?) and restaurants serving food on paper plates
prevented the disaster
. At any time, you might have to reduce water use or use bottled water. The same week Macomb County public works officials worried about sewer overflow, water managers in Pittsburgh, Pa., and Chapel Hill, N.C., told residents to boil or avoid tap water. In Pittsburgh on January 31, the Pittsburgh Water and Sewer Authority issued a boil water advisory for 100,000 customers, including schools, restaurants and hospitals. Tests of the city's water supply showed there wasn't enough chlorine in the water at a treatment plant. The advisory ended February 2. In Chapel Hill, a broken water main February 2 immediately followed by a water treatment plant shutdown February 3
caused the boil water notice
and, later, a water shortage. Students at the University of North Carolina and businesses around the school were most affected. A basketball game between UNC and Notre Dame
had to be postponed
and moved. The school canceled classes the afternoon of February 3. Although the boil water notice ended February 5, Orange County, N.C. officials asked people to keep conserving water because the
broken pipe caused a water shortage
.
Ready.gov says
a person needs an average of a gallon of water per day. Here are three ways to make sure you've got clean water handy when you need it. First, assume you won't be able to buy water. The water emergency in Chapel Hill
lasted two days
. Residents could still use tap water for many things. Trucks could easily resupply stores. Yet stores reported runs on water and empty shelves.
Ready.gov recommends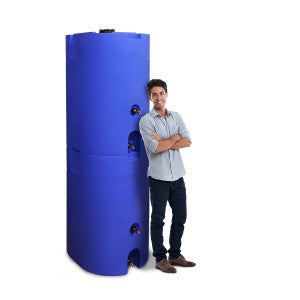 you store a gallon of water per person per day for three days. Commercially bottled water is the safest and most reliable water for storage, according to ready.gov. It's easy to store and lasts longer than home-bottled water. Just don't open it and be aware of the expiration dates on the bottles. Food-grade water storage containers are also
available here
. When filling them, if your water comes from a well or if your utility doesn't treat water with chlorine, add two drops of non-scented liquid chlorine bleach to each gallon of water. Check the water after a half hour. If it doesn't have a slight bleach smell, re-treat it and wait 15 minutes.
Ready.gov recommends
you replace home-bottled water every six months. Second, think about all the ways you use water – like washing dishes – and plan substitutes. In Macomb County, Mich., some restaurants used paper plates on Super Bowl Sunday to reduce their water use. Do you have enough disposable dishes on hand that you could minimize dish washing for a few days? Even reusable water bottles should be
washed daily
. Third, be prepared for long-term water shortages. Consider buying a water filter for your home or water taps. After three years of lead-laced water in Flint, Mich., the Michigan Department of Environmental Quality finally found that lead concentrations in Flint tap water were below the federal limit. The DEQ didn't recommend Flint residents start using unfiltered tap water, though. As pipes get replaced and flushed throughout the city, lead concentration could spike in individual homes. If you're considering a home water filter, first think about why you want one,
suggests the U.S. Centers for Disease Control and Prevention
. The main function of the activated carbon filters found in fridges and pitchers is to change the water's taste. They may not fully protect against contaminants. If a test to your water system shows organic contaminants, you may want a full-house or point-of-entry filter system so you can use the water for bathing and cleaning as well as cooking and drinking.
Second
, all water filters should be NSF-certified. NSF-certified filters can remove lead. Check the labels on filters, because no water filter removes everything. Consider things like cost of the filter system, how much filtered water you need and how a system might fit into your home. Third,
maintain your filters
. Change them on schedule. "Filters that are not well maintained can do more harm than good," the CDC wrote.