Early in the evening, just about suppertime, millions will have their eyes trained on Sunday's total lunar eclipse. If your eyes are two of them, listen carefully as you gaze. You may hear the strains of an old '60's tune floating through the air.
"I see a bad moon rising. I see trouble on the way. I see earthquakes and lightenin'. I see bad times today."
Sunday's moon might be called a Blood Moon for the red cast it will take on when it reaches full eclipse. For many, however, the name refers to ancient biblical prophecy declaring that, before the end of days, "the moon will be turned to blood." For them, this is certainly a "
Bad Moon Rising
."
"I hear hurricanes a-blowin'. I know the end is comin' soon. I feel rivers over flowin'. I hear the voice of rage and ruin."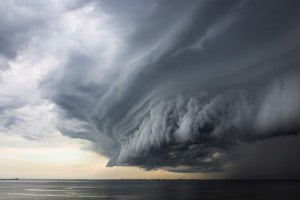 When Credence Clearwater Revival released this hit in early 1969, songwriter John Fogerty waxed prophetic when, less than four months later,
Hurricane Camille
hit the Gulf Coast of Mississippi—still the second strongest hurricane in US History.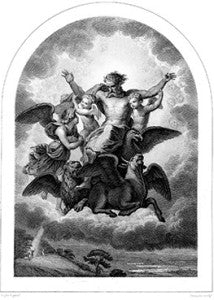 Mark Biltz, founder of El Shaddai Ministries, has been warning the world about this Bad Moon since before the first of this tetrad arose in April of last year (a tetrad being a series of four consecutive full lunar eclipses). In
a Washington Post interview
he told writer Abby Phillip, "I'm just saying there's a good chance there could be a war with Israel. I'm also saying there's a good chance there could be economic calamity. And I'm basing that on the Bible and patterns." Likewise, Minister John Hagee has been alerting the world that God himself has a message in the sky for us Sunday night. "There's a sense in the world that things are changing and God is trying to communicate with us in a supernatural way," Hagee told
CBN News
. "I believe that in these next two years, we're going to see something dramatic happen in the Middle East involving Israel that will change the course of history in the Middle East and impact the whole world," he predicted.
"Hope you got your things together. Hope you are quite prepared to die. Looks like we're in for nasty weather. One eye is taken for an eye."
Blood Moons, Bad moons, prophecies, calamities…you'd have to ask John Fogerty himself what he had in mind as he wrote his #2 Billboard hit.
Rolling Stone Magazine did just that
, and Fogerty quite frankly replied, "It was about the apocalypse that was going to be visited upon us." I was a sixth grader at Cordova Meadows Elementary School when I first heard the strains of Bad Moon Rising. Since then, the world has seen plenty of earthquakes, hurricanes, rage, and ruin. Vietnam, Afghanistan, Iraq. Energy crisis, tsunamis, Ebola. Plunging markets, bursting bubbles, falling trade towers. Looking back, these calamities, along with the illnesses, accidents, layoffs, divorces and other set-backs that have hit me and mine over the last 45 years, never came with warnings, or moons, or top-forty hits. They just happened. I expect it's the same for you and yours.
"Don't go around tonight. Well, it's bound to take your life. There's a bad moon on the rise."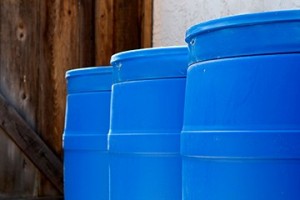 Sunday night, our cupboards will be stocked with several month's worth of necessities. The propane tanks are full, cooking gear is at the ready, alongside a couple of tents and sleeping bags. Flashlights are charged, on the shelf with oil candles and the first-aid kit. Plus, over 200 gallons of clean water stand in barrels and jugs in the garage. When this bad moon rises, we'll be ready…just like we have been for years. For us, family preparation has never been anything extreme, or fearful, or reactionary. We're not cowering to mystic moons or ministers of doom. It's just a part of our preparedness lifestyle—put a little bit aside each month for whatever God, or anyone else, has in mind.

So, my family
will
be goin' around Sunday night. With cameras and binoculars in hand, we'll throw a blanket out on the roof and watch this incredible super-moon rise and fade from white to red, marveling at it's splendor. And while we'll enjoy the evening, my wife and I are ever mindful that along with these peaceful times come also life's challenges. But we'll rest soundly until Monday morning, knowing we are prepared.